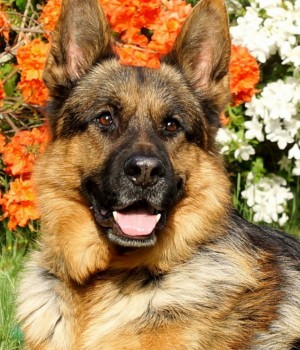 Status: Adopted
Age: 8 years
Size: Medium
Color: Black and Red
Sex: Male
Activity level: medium
Good with other dogs: yes
Good with cats:
Foster parents: Deb and Bill C
Sponsor Buddies:
Yard Fencing: Required
Click to View More Images.
Password: Danilo
Photos by: Todd Gorman Photography and Loueen LaVallee

April 7, 2015
Danilo is a handsome black/red male German Shepherd with beautiful markings.  He went to work with his owner, Craig, and was seldom alone.  He learned good manners and will stay in a down position until given the "all done" command when visitors come into the home.  He is calm and polite when meeting new people, loves to go for walks and has his favorite toys.  His life was good during his first 8 years.
Then, in February, his owner died suddenly, and Danilo had to leave his familiar home and move into foster care.  He was depressed at first, and he didn't eat for several days.  Gradually, though, he began to respond to the overtures of the female GSD in his foster home.  They were taken for walks together, played in the yard together and shared their toys.  He showed us that he wants to please, and he began to make new friends.  Once again, he gets excited when he sees his leash and gets enthusiastic when he knows he's going for a ride in the car.  His appetite is back, and he's playful and happy to be with his foster family.
Danilo is now ready to find his forever home and will do best with someone who will be able to have a lot of time with him….someone who is retired or who can take him along to work.  He enjoys learning new things and also likes to show off what he already knows; but his favorite thing of all is to be with his special person.  Could that person be you?