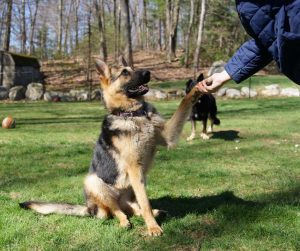 Thank you for considering adopting a rescue dog!
GSRNE works very hard to match the right dog with our adopters, so that you'll be happy and our dogs will have a forever home.
We place dogs in the six New England states (ME, NH, VT, MA, CT, RI).
The adoption fee for our dogs is: $450 for dogs over 6 months up to 7 years of age and $550 for puppies up to 6 months of age.
$250 for seniors, age eight and older & special needs dogs.
The fees help us meet expenses incurred by our nonprofit organization, although our average expense per rescue dog is approximately $2,000 each. These include the following if they have not already been given to the dog before coming into GSRNE's program:
Spay or Neutering
They are all spayed or neutered prior to adoption
Vaccines:
Distemper, Hepatitis, Leptospirosis, Parainfluenza and Parvovirus (DHLPP)
Rabies
Bordetella
Lyme
Tests:
Heartworm, Lyme, Elrichea, and Anaplasma (4DX)
Fecal
Complete blood panel for seniors dogs or dogs that have apparent health issues
Exam:
Check for any apparent health issues
Microchip implanted
Flea, Tick & Heartworm Treatment
Flea, tick and heartworm preventatives
Grooming
Sometimes our dogs come in needing a grooming (bath and nail clipping) and we try to have this done either before the dog goes into a foster home or when they get to the foster home if the foster home is unable to bathe the dog.
Training
Some dogs require professional training to work on additional skills and socialization to prepare them for a happy and healthy life.
Boarding
At times we need to board our dogs.  It is usually because the dog needs out of the situation it is in and we don't have a foster home available.
---
READ NEXT: Should you get a German Shepherd Dog?