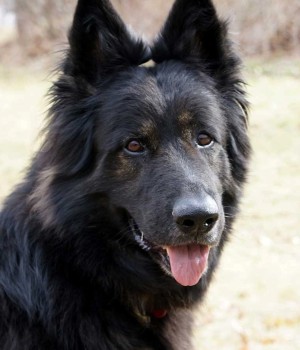 Status: Available
Age: 7 yo ( DOB 1/14/2016)
Size: Large
Color: Black and Tan Long Coat
Sex: Male
Activity level: Medium to High
Good with other dogs: no
Good with cats: unknown
Foster parents: Mike and Gina D.
Sponsor Buddies: Jim Nemeth
Yard Fencing: Required
Click to View More Images.
Password: Guinness
Photos by: Marie G.

Guinness is a stunner. He gets compliments on his looks wherever he goes. When this solidly built long-haired dog responds to a recall, he comes running with power, grace, and fluidity. It's a sight to be seen. Guinness usually loves meeting people and happily accepts pets from them. He enjoys walks around the neighborhood and on the trail. He is also very content to just hang out with his human.
Guinness was originally rescued down south after being found tied to a tree, and through no fault of his own, has lived in several homes since then. But he didn't let his rough start at life affect him and was an affectionate dog from the get go. Guinness found his way to a local family wanting to give him a better life. But, because of life changes, they weren't able to give him the attention and exercise he needed. They loved him and wanted to make sure they gave him the best life possible so they contacted us.
Guinness is sweet and calm around people, young and older. He has good manners and takes treats with due consideration of fingers. He is a love sponge who likes to flop down next to you to cuddle and may even doze off while you gently stroke his luxurious fur.
Guinness can be reactive to dogs he doesn't know, especially when one surprises him. He can cope in such situations if given a chance to see that the other dog is not coming to get him along with treats to teach him to stay focused on you as he moves past the other dog. Guinness did very well in "pack walks" intended to help dogs of any age become better socialized. He also lived with a 3 year old female German Shepherd and an 11 year old (but very spry) male smooth fox terrier and they all got along well.
This affectionate dog is ready for his forever home. The ideal owner will commit to continuing his training and understanding what is needed for continued success. We have selected "no" to the question of "good with other dogs" in the stats section of his bio out of abundance of caution but will entertain applicants with other dogs given the information discussed above. If you are the person that understands the importance of training, understands the breed, and are ready to commit to Guinness, he will reward you with love, loyalty, and companionship.