GSRNE sometimes gets asked to help a German Shepherd, that we can't bring into our rescue. It could be that GSRNE is full and has no foster homes available or we have not been able to see the dog yet to evaluate it. So, we try to help the shelters and the dogs by telling people, like you, about them. If a dog is at a shelter and you want more information about it, please call the appropriate shelter that's provided.
We have not temperament tested or evaluated the dogs on this page. Some of these dogs have a very short time to live, due to overcrowding at shelters or the dog falling apart mentally/emotionally. If you are interested in one, please call about these dogs right away, and please mention that you saw info about the dog on the GSRNE website. Thanks!
Note: ALWAYS call first and ask if a shelter dog is still available. Shelters often do not update us when dogs are adopted or euthanized so listings here can be out of date until we find out. Please let the shelter know that you saw the dog on GSRNE's website.
And if you adopt a dog that you saw here, we'd love to hear from you! These are dogs we wish we could help and it would be wonderful to know how they are doing. Let us know if it's okay to put your story of adopting the dog here on the site and on our Facebook page as everyone loves a happy ending! Email askgsrne@gsrne.org to share your story with us!
Hi! My name's Indigo and I'm a 1-year-old neutered male German Shepherd Mix. I came to Lucy Mackenzie afterlife in my last home didn't quite work out for me. This only leaves me excited for my next chapter, though! I can't wait to see what comes next, and all of the possibilities it might bring. Here's what I can tell you about me: I am loving, fun and would 100% benefit from consistency with my training. Also, if you've ever owned a German Shepherd, you likely speak my language! Did I mention that I really, really love car rides? (What dog doesn't? We're very curious, and excitable, I guess!) And, while life is moving forward in a different direction now, I know I am in safe hands here, and know that there is just the perfect home and family waiting out there for me! So, if you'd like to meet a deserving gem like me, why not give the kind folks at the shelter a call and learn more today?!
-Older kids ok
-No cats
-I am unsure about dogs- so no for now-I should focus on learning my basic skills before deciding if I like dogs or not…
-Not housetrained
11/22/22 UPDATE: Ok with dogs once introduced.
If you are interested in Indigo or have any questions, please contact:
Amy Woodman, Shelter Manager
Lucy Mackenzie Humane Society
802-484-5829
www.lucymac.org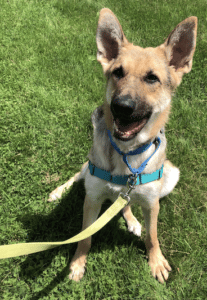 Meet Duo Duo/Odin
This guy's story is all over the place. He was someones dog, then he went to someone else.Then he was dumped at the NYCACC, the NYC's municipal kill shelter.
He was ready to be euthanized but an amazing foster stepped up to save his life. He needs an experienced GSD handler to step up and provide a forever home for this gorgeous boy ASAP!
Duo Duo/Odin's STATS:
Approximate age: We think he's closer to the 1yr 6 months than the 3 years
Approximate weight: 65 lbs but putting weight back on!
Breed: German Shepherd
Spayed or neutered? Scheduled for 10/17
Good with kids? Surrender Family indicated he was great with their 14-Year-old.
Currently, wouldn't recommend without significant training and proper controlled introduction.
Strangers? Current challenge. It's fairly evident he's been trained in protection,
and he has not been socialized. He is loose with a wagging tail but will not calm.
Other dogs? Also, unknown. Currently working on introduction with foster's pups,
but similar to strangers, Odin will bark and not calm
Cats? Unknown
On leash? Incredible with no stimuli. When presented with a stranger or other
pet, will focus and pull to them.
Housetrained? Yes
Crate trained? Yes
Paper trained? Yes
FOR MORE INFO GO TO THIS LINK WITHIN PETFINDER:
https://www.petfinder.com/dog/duo-duo-odin-57309634/nh/manchester/pound-hounds-res-q-ny1248/
If you think you could be a rehabilitating foster, please apply with the awesome people at https://www.poundhoundsresq.org! They're the ones that enabled Megan and Scott to save Odin's life! He's up in Southern NH on the Manchester/Bedford border waiting to meet you!