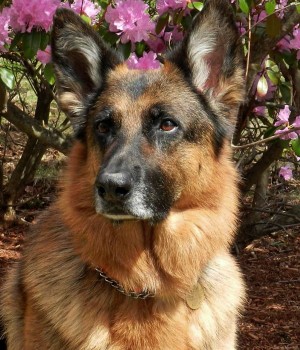 Status: Adopted
Age: 8 yrs (1/16/2012)
Size: Large
Color: Black and Tan
Sex: Male
Activity level: Medium to High
Good with other dogs: no
Good with cats: no
Foster parents: Marie G.
Sponsor Buddies:
Yard Fencing: Required
Click to View More Images.
Password: Utley
Photos by: Marie G.

Date Adopted: November 20, 2020
Utley will be nine years old in January, and he was moved from home to home, it seems, before he came to GSRNE.  The man who called us had purchased him through Craig's List from a woman who had also gotten him from an ad on that site, and she had taken him from someone else who couldn't keep him.  The man was calling us just a week after he took possession of Utley because the poor dog had a serious ear infection, and the man said he couldn't afford vet bills.
When our volunteer evaluated Utley, she said he was a sweet dog and really needed immediate vet care, so we had that taken care of right away.  In addition to mixed bacteria and yeast in his ears, there was crusted fur on his thighs from a skin infection that he must have had for a long time, a cracked canine tooth and a raised irregular mass on his left hind paw.  With all that, Utley was patient and cooperative, but we didn't have a foster home available and had to board him for almost a month; he turned 8 years old while in boarding.
He moved to an experienced foster home on 1/26/20, and we learned that he had some personality quirks.  The first one was that he would not go away from the house for a walk; he wouldn't even walk around inside the fenced yard with his foster Mom after he had taken care of business.  When she tried to take him for a walk down her street, he sat on the grass in the front yard and would not budge!  That was solved by having another GSRNE member visit with her friendly dog, and Utley was willing to take a short walk as long as the other dog led the way.  Since then, he has decided that walks are fun; he enjoys riding in the car and then stopping at different parks for longer walks than they do in the neighborhood.  Utley is exceptionally sweet when meeting people, and they always fall for the way he'll sit close and look right up at them as they give him some kind attention.
Utley doesn't want to give up or drop a toy and tries to play keep away, his favorite game.  If his foster Mom takes hold of the toy, he tries to play "tug" with it; but if she takes hold of his collar, he lets go of the toy.  He does have some prey drive and will try to catch the rabbits that run through the yard or past the fence.  Because of some weakness in his rear legs, though, he has not come close to catching one.  The vet has not found a cause for that weakness, but going to Physical Therapy and walking on a treadmill in a water tank has helped strengthen those muscles.
He's been with his foster Mom for almost a year, now, and he loves meeting new people and has made friends with the neighbors they pass when on walk, which he now does happily.  She understands his quirks and is not sure how well he would make another big adjustment. He knows this is his home, and his foster Mom has asked to be his forever home.  We are delighted for both of them!