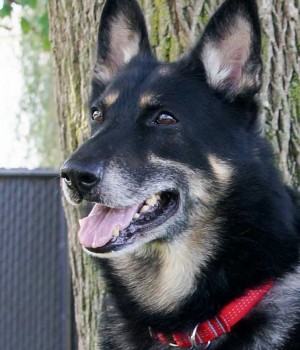 Status: Adopted
Age: 8 years
Size: Medium to Large
Color: Black and Tan
Sex: Male
Activity level: Medium to High
Good with other dogs: Yes
Good with cats: unknown
Foster parents:
Sponsor Buddies:
Yard Fencing: Required
Click to View More Images.
Password: Titan
Photos by: Loueen LaVallee

This handsome boy had a home until he was almost 8 years old, living in a family with two other dogs. Things changed due to health issues in the family, and we were asked to bring him into GSRNE and find him another home where he would continue to be loved and cared for.
There was no foster home available, and Titan needed to move quickly, so we moved him to a boarding facility temporarily.  His friendly personality and love of toys and playing fetch games made him popular with everyone who gave him attention and took him out to the play yard.  While he was there, we learned that he knows obedience commands and even hand signals.  He's a little rusty on giving a rapid response, but he's relearning quickly.
As luck would have it, we had repeat adopters who had been waiting for a dog like Titan, who could potentially fill the void left when their previous GSRNE dog died a few months ago.  We arranged for them to meet, walk him on leash, throw his favorite football in the play yard and just hang out for a while.  By the end of the getting-acquainted visit, they asked if they could take him home.
We felt that it was an excellent match; but we do ask potential adopters to go home and think it over, talk about it and then let us know, the next day, whether they're sure they want to do the adoption.  The decision was the same after 24 hours, and Titan will soon be on his way to his forever home.  We're looking forward to hearing a lot more about him as we get updates and pictures from his new family.