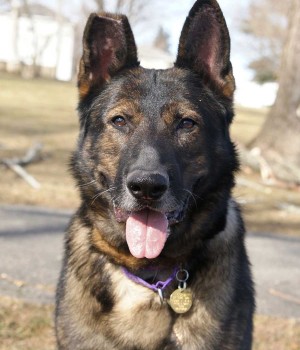 Status: Adopted
Age: 6 years ( DOB 11/26/16)
Size: Large
Color: Sable
Sex: Male
Activity level:
Good with other dogs: If properly introduced
Good with cats: unknown
Foster parents: Jim U.
Sponsor Buddies:
Yard Fencing: Required
Click to View More Images.
Password: Thunder
Photos by: Loueen LaVallee

Date Adopted: May12, 2023
This big 6 year-old handsome boy is friendly to everyone he meets.  He also very much enjoys the company of other dogs.
Before we met him, Thunder had lived in more than one home in is life.  His last owner who contacted us only had Thunder for a few weeks and initially thought he'd do well in his home.  Unfortunately, he worked long hours at night and subsequently learned that Thunder had severe separation anxiety leading to soiling accidents and destructive behavior.  The female dog in the home didn't seem to like Thunder there which caused the owner to have to often separate the two dogs. Thunder, however, had done very well with other dogs he'd met of a variety of breeds and sizes and was very affectionate when his people were around to give him attention.  The owner knew he needed to find a better situation for Thunder and called us.  
It was evident during Thunder's evaluation that he was a very sweet dog who needed the right environment to thrive.  A long time volunteer and GSD savvy foster home heard about Thunder and agreed to foster him knowing about the challenges likely to be faced.  It was hoped that his friendly female GSD may also help calm Thunder's anxiety.  It took months of patience and trouble shooting to get Thunder to the happy dog he is today.  An impact crate, after Thunder destroyed a wire one, helped create a safe space for him and allowed him to relax when the foster had to be away.  Princess Red, the female GSD, and Thunder became fast friends.  Vet care as well as training made a difference too.  Most importantly was the love and attention given to him by his foster dad.  Thunder still has triggers, but he has joy again which many people were able to witness in person when Princess Red and Thunder graced everyone with their presence at the recent GSRNE auction.  Both were so friendly and well behaved.  It was here that Thunder's foster dad officially announced that Thunder will not have to make another difficult transition.  Both Princess Red and he cannot fathom their home without Thunder and they are becoming his forever family.  A happy ending!