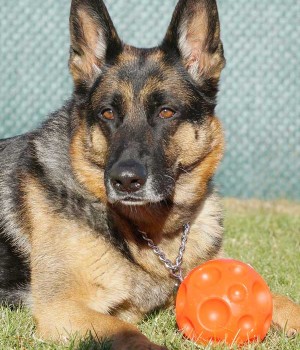 Status: Adopted
Age: 6 yrs DOB 3-31-11
Size: Medium to Large
Color: Black and Tan
Sex: Female
Activity level: Medium to High
Good with other dogs: Some
Good with cats: No
Foster parents: Christine B.
Sponsor Buddies:
Yard Fencing: Required
Click to View More Images.
Password: Ivy
Photos by: Loueen LaVallee

Ivy is an upbeat girl who likes to play tug-of-war, chase tennis balls, go for walks or ride in the car.  When you grab her leash and mention "walk" or "ride," she gets so excited that she jumps right off the ground!
She's happy to meet visitors and will jump up for that, too, but her foster parents are working with her to go get a toy instead of jumping on people.  During her walks, Ivy will try to dart after a squirrel, chipmunk or cat, so her person has to be alert to what's around them.  She knows how to walk without pulling but had not been walked much before coming to GSRNE and is re-learning that and other obedience behavior.  She does notice reflections on a wall or ceiling and will fixate on them until distracted.  We don't know what started this behavior, but it can be caused by playing with a laser light with a dog; some dogs get very frustrated by never being able to catch the "prey."
Ivy's owners were getting a divorce and had two male German Shepherds in addition to this sweet girl.  They were thinking of having Ivy euthanized, so her vet took ownership and worked to find her a home.  When she contacted GSRNE and told us about Ivy, we said we'd bring her into our rescue.  We had a new foster family who wanted a male to foster-to-adopt, but they agreed to help Ivy first.  It was just a few days before Christmas, and they made it possible for her to be in a real home instead of a kennel at the vet's with reduced staff during the holidays.
In her foster home, she quickly became comfortable with family and friends who were visiting and carried her new toys around with a bounce in her step. Once she gets to know someone well, she'll roll on her back for a belly rub and loves to cuddle.  Ivy has met one of our repeat adopters who had been waiting for a mature female, and we're happy to share the news that she has found her forever home!