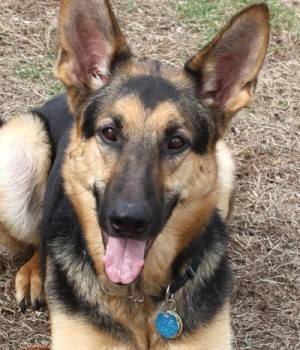 Status: Adopted
Age: est DOB 02/17/14
Size: Medium to Large
Color: Black and Tan
Sex: male
Activity level: Medium to High
Good with other dogs: Yes
Good with cats: Unknown
Foster parents: Deb and Bill C.
Sponsor Buddies:
Yard Fencing: Required
Photos by: Deb C.

Date Adopted: May 28, 2017
Age at adoption: 3 yrs old  DOB: 2/17/14
When we asked his foster Mom what makes Chance delightful, she wrote,"He is very loving and loves to cuddle. He talks to me in this very deep baritone voice, so funny.  He loves to play in the yard, and he is an absolute joy to walk…no pulling or tugging.  He listens well to commands and respects my home."
Chance warmed up to his foster Mom right away, but it took him a few days longer to trust his foster Dad.  When meeting new people, especially men, Chance is unsure and wary.  He is very aware of people and sounds when out for a walk and is more comfortable walking where there's not a lot of noisy traffic.
In his foster home, Chance is living with a female German Shepherd named Molly.  He gets along well with her, and we were told that he lived with other dogs in a previous home.  He's actually had two previous homes before foster care; his first owner gave Chance to a relative, and she didn't have permission from her landlord to have a GSD.  As a result, she took Chance to a humane society.  Because he was so nervous and uncomfortable there, GSRNE was called and asked to move him out of that environment before he hurt himself trying to get out of his pen.
Chance has learned to stay in a crate while his foster parents are at work, but he has chewed up a crate pad, a blanket and managed to get his collar off and chew that up.  He now has his collar removed before he stays in his crate.  When his people come home from work, Chance is overjoyed to see them and ready to play. He especially loves his jumbo Jolly Ball, in the backyard, and his stuffed beaver toy, in the house.  He also enjoys riding in the car and stays in the back part of the family's SUV.
When he first came to GSRNE, Chance was underweight and had itchy skin; with a change to a good quality food and the addition of a medication (Apoquel), Chance has put on weight, is less itchy and is ready to meet his forever family.  Please let us know if you'd like to learn more about Chance and find out whether you could provide the home he's waiting for!