Meet Some Of Our Available GSDs…
These Dogs Need You!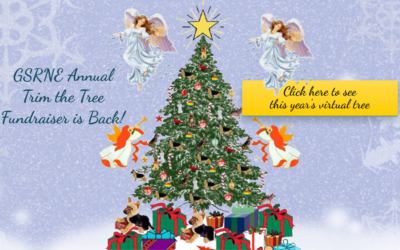 Trim-the-Tree to help the dogs! Like everyone, this year has again been brutal for our rescue. People are struggling and German Shepherds are more in need of help than ever before. We hope that you can help us help the dogs by decorating our...
read more
Dog rescue work is time-intensive for the people doing it. It is also money-intensive, unfortunately. Veterinary costs, quality boarding, advertising, foster care expenses, transportation, supplies…all of these things cost money.  As we are an all-volunteer, privately funded non-profit organization, we rely solely on the generosity of our supporters to continue our work helping German Shepherd Dogs.
GSRNE also relies upon Rescue Memberships for financial help. Additionally, we run fundraisers to help us raise money to help more needy German Shepherd Dogs.
It has been the generous donations made by both individuals, and sometimes groups, that make it possible for German Shepherd Rescue of New England, Inc. being able to help rescue a suffering and/or homeless German Shepherd out of a dire situation.
We accept all financial donations. German Shepherd Rescue of New England, Inc. is a 501(c)(3) non-profit organization. All donations are tax deductible!
Please use this button to securely make a donation online.