Bladder cancer took this handsome boy….😢 He was one of Jim Miller's foster dogs.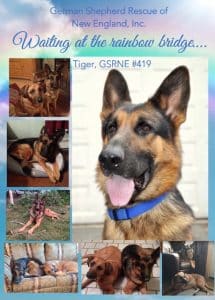 "I have lived with you and loved you, and now you are gone. Gone where I cannot follow, until I have finished all of my days."   ~Victoria Hanley
It's with great sadness that we announce that Tiger, GSRNE #419 has crossed the bridge. This sweet boy fought so very hard these past few months but sadly lost his fight to cancer.  We know he's in a better place now, free from pain but, our hearts are so heavy tonight for his family who loved him so much and miss their sweet lovable boy…especially his fur sister, Lindsey.  Six years ago Lindsay welcomed Tiger into her home and they became best-friends and were inseparable.
Rest easy handsome boy your GSRNE family loves you. ♥️xoxo