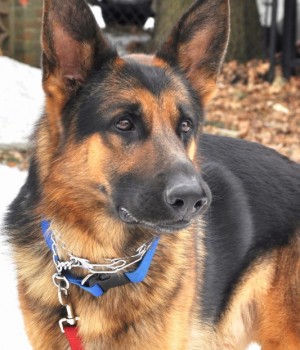 Status: Adopted
Age: 3 years
Size: Med
Color: Black and Tan
Sex: Male
Activity level: medium to high
Good with other dogs: OK with most other dogs
Good with cats: no
Foster parents: Jim M.
Sponsor Buddies:
Yard Fencing: Required
Click to View More Images.
Password: Tiger
Photos by: Gillian F.

May 15, 2015
We met Tiger in February of this year and were impressed with his friendly and playful personality.  He's three years old and really enjoys squeaky toys, playing tug-of-war and chasing squirrels out of his foster Dad's fenced yard.  He needed some help in the "manners" department, because he tried to counter surf if there was anything out that smelled interesting; and he thought jumping on the couch was fun.  Fortunately, he's been good about staying in a crate when unsupervised.
During his vet exam, his test for heartworm came back positive for some immature worms.  He needed to go through the treatment for getting rid of the worms, and the hardest part of that has been to keep him quiet.  That's really tough for an active young dog like Tiger, but he's been restricted to only walking on leash and no playing with the resident female German Shepherd in his foster home.  Fortunately, they both enjoy going for rides in the car; and the changing scenery gives them some mental stimulation.  His last two injections will be given on May 28 and 29, and he'll still need to be walked on leash and not allowed to run for another few weeks.  Once he's free of the heartworms, he'll gradually go back to running, playing and being his smart and energetic self.
Tiger will need some obedience classes to get him used to walking on leash without pulling and to teach him that jumping on people in excitement is not allowed.  He loves meeting people, though, and is a very social boy (he loves belly rubs)….he can be talkative, too, and has a variety of vocalizations for expressing himself.  He'll be ready to meet his prospective adopter soon after the first of June!