Our beloved Elsi passed away just shy of her 2-year gotcha date with us.
She would have turned 13 years old on November 23rd.
We knew the moment we met her and learned her story that she would be our first foster "failure". There was just something about the way she looked at us.
Elsi had her share of loss before officially coming into GSRNE – her littermate brother "Bear" had passed away shortly before her human Mum, Tori.
"Els" as Tori called her, spent the majority of her life supporting her Mum as she fought cancer for many years. Els seemed naturally attuned to human behavior and perhaps this emotional time watching over her Mum honed her ability to connect in a unique way. Some dogs have special gifts and they become support or service dogs- we believe Elsi had that gift.
It was clear to us that she had come from a loving home and that she had a powerful presence about her. We immediately called her the Queen and our motto became, "It's all about Elsi"
Her beauty was majestic and people were drawn to her, but Elsi only bonded to her special people and a few furry friends. She loved car rides and we took her everywhere we could. She was content to be a part of whatever we were doing, especially outdoors.
She was fun, playful and very interactive.. She was also a good communicator. She would let out occasional barks and the random howl when she had an announcement! She loved having her toys all around her for easy pickup to greet us and transport around the house and carry outdoors.
In her early days she loved chasing her favorite soccer ball and would do a victory lap after catching it. She also loved going for walks along the wooded trails near her backyard, most times carrying her ball or picking up a large stick to proudly trot around with.
Later on we would simply spend time outdoors for hours on end and that was her happy place. We would play when she felt good until she deemed the game over by catching the ball instead of deflecting to pass.
Although Elsi was with us for only a short time, we loved her deeply and had a special connection. She was cute, funny, loving and precious. Her eyes were soulful and she was always smiling despite her many health issues. She was a fighter and so tolerant of all the vet visits, tests, pokes and pills that helped to give her a good quality of life. We enjoyed every moment of caring for her.
There was so much love and appreciation in her eyes, we knew her Mum must be watching over all of us.
Run free sweet Elsi, go find your Mum and brother and your boyfriend Aspen. You will forever remain in our hearts – Sarah and Tim
More from Loueen and Larry-
Thankfully, we are part of the rescue and lived nearby to help.
When Tori needed us, we would go every other day, and when she was feeling better, maybe just once a week, or even less. She would call and let us know when she needed help, or just to talk. We enjoyed spending time playing with the dogs and visiting with Tori for about 1.5 years.
No matter how bad Tori felt, she always greeted us with a warm smile, and Els and Bear with kisses and toys. Els's smile was amazing and always made me smile to see it!
When we would visit, Tori would tell us that she told Els and Bear we were coming, and they had been anxiously waiting to spend time playing with us. I laughed, but by the way they acted, sometimes I believed it! 🙂 Elsi would grab her worn out soccer ball, and would be ready to head to the field with us. Her job was to carry her ball ♥
I enjoyed the time I spent with my soccer buddy very much, and I know she shined her light on many.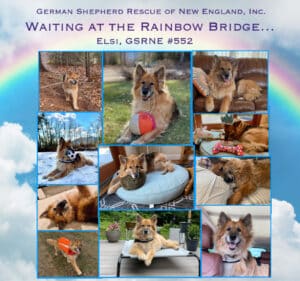 See Elsi's original bio page: https://gsrne.org/dog-bios/elsie/