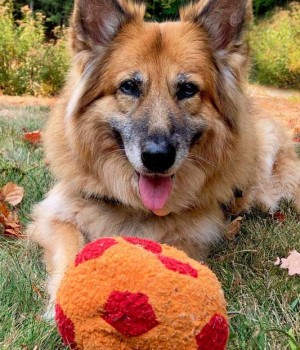 Status: Adopted
Age: 10 years (DOB 11/23/09)
Size: Medium to Large
Color: tan with black
Sex: Female
Activity level: Low to medium
Good with other dogs: Some if properly introduced
Good with cats: Unknown
Foster parents: Sarah and Tim B
Sponsor Buddies:
Yard Fencing: Exception considered
Click to View More Images.
Password: Elsi
Photos by: Sarah B. and Loueen L.

Adopted: September 22, 2020
We were contacted in March by a woman about her two dogs named Elsi and Scoobie Bear. They were lovely long coats she had since they were puppies. She reached out to GSRNE because she was undergoing cancer treatments for a recurrence of cancer and wanted to make arrangements for her 2 dogs because she didn't know how long she was going to be able to keep them, or how long she would live. It certainly was a unique situation for us. She was interested in putting the dogs up for adoption but, asked if they could stay with her instead of being placed in a foster home while they were made available. Her hope was that they could move from her home to an adopter. We know she was heartbroken over not being able to do what she used to with her dogs and facing the need to find them another home. With the help of some of our volunteers, she was able to keep her dogs until she could no longer care for them. They were beautiful and had good temperaments. Both dogs would bark when they approached the door but once it was opened they greeted everyone with wagging tails, and a toy to play with!
This past July we heard that her Scoobie Bear had a tumor on his spleen and had crossed the bridge. Elsi had 2 more months with her owner before she had taken a turn for the worse and her family asked us to take Elsi. Luckily we had all the paperwork done so we just needed a foster or adopter for her. We reached out to Sarah and Tim (Willow's foster parents) hoping they were ready to foster again. As soon as they heard about Elsi they said yes. What a relief —we knew how much love and attention Elsi would get from them. For the first few days Elsi did not eat. We'd like to believe she was missing her Mom and her brother who crossed the bridge a few months before. One thing about Sarah though, is that she never gives up —she bought all types of samples of food, added chicken, liver, etc and finally Elsi started eating. About 4 days later Sarah and Tim asked to adopt her. We were thrilled and it was so heartwarming to know Elsi was home, loved, and thriving!