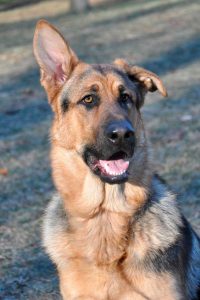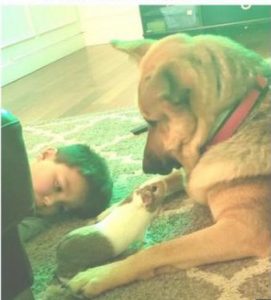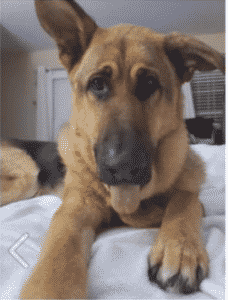 Oliver was adopted by Ranu and Lindsey and their family in 2018 when he was about two years old.  When their last dog died, they thought about taking a break from dogs for a while—that lasted about a month when they decided their house really was too empty without a dog.
Ranu had had a German Shepherd mix earlier in life, and he loved that loyal and loving nature of German Shepherds, so he began searching the web to look for another.  Oliver was the second dog he saw and luck was on his side.  After going through our long adoption process, Oliver was still available and was determined a perfect fit for their family.  If Ranu had one word to describe Oliver it would be "AMAZING".
When Ranu and the kids are goofing around on the floor, Oliver will bark and nose into the middle of it almost saying, "We're a family, let's get along!"  He gets along with everyone and has been a wonderful addition to the family.  Ranu is going on walks again – He and Oliver do about 3 miles every day.  He will go to the beach with them too.  His favorite toy is the chuck-it, which they inherited from his foster family.  When Oliver sees the chuck-it come out, he is crazy with excitement to play.  Overall, Ranu says Oliver seems to have almost a human soul, and he and his family couldn't picture life without Oliver in it !