LIVE AUCTION ITEMS
Special thanks to the sponsors of our 22nd Annual Live Auction!
L000 — Kong Collar, Leash and Removable Treat Bag — $50.00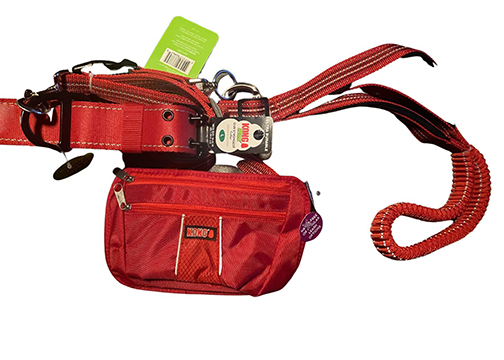 This Kong leash is hands free! Fill the removable pouch with treats when you are training your dog. It can also be used as a place for your phone, keys, etc. when walking your dog and it comes with a matching collar.
Donated by: Pet Supplies Plus
L001 — Lug Medium 2 piece Crossbody-Tenor Paws Black Wallet — $79.00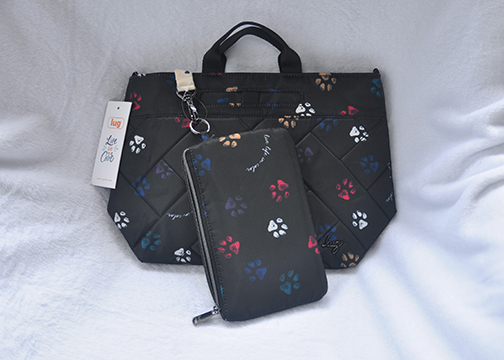 There's plenty of room for all your necessities in this beautiful quilted crossbody bag. Designed with both fashion and function in mind, this colorful tote catches the eye with a novelty pattern. It comes with a detachable pouch and has roomy interior pockets to keep you organized.
Donated by: Peggy Serino
L002 — Woman's Chanel Fragrance Basket — $330.00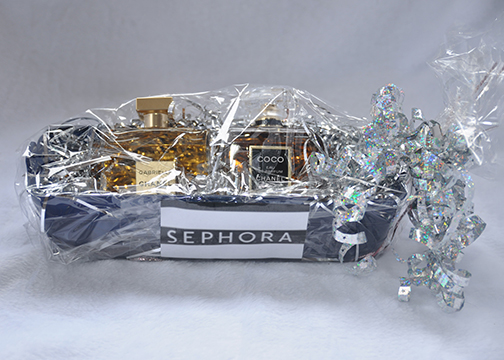 This basket contains 2 bottles of the popular Chanel fragrances: Gabrielle and Coco Eau de Parfum.  Gabrielle Chanel features an intense floral heart enhanced by notes of vanilla and sandalwood. Coco  Eau de Parfum opens with a citrus note of Sicilian mandarin and reveals a voluptuous heart of  jasmine, May roses and patchouli. They'd make a great gift or keep them and spoil yourself. You'll smell divine!
Donated by: Shawn Simpson
L003 — Vera Bradley "Best of Breed" Dog Bed — $95.00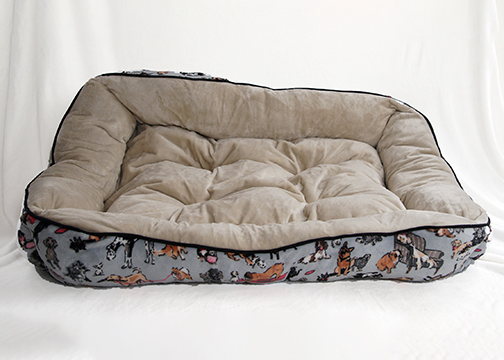 This Vera Bradley "Best of Show" dog bed has a fun and whimsical print showcasing every breed. It offers your furry family member a cuddly-soft surface and the support that is needed for a good night's sleep. It features ultra-soft sherpa and fluffy fleece for maximum comfort and the bolstered  sides can double as a cozy headrest. Your dog deserves this stylish and soft bed.
Donated by: Tina Russo
L004 — "This Ones For the Girlz" Basket — $160.00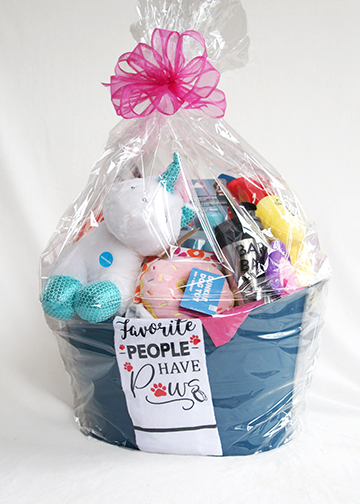 This basket is all about our girlz, our best friends, our 4 legged family and Fun, Fun Fun! From unicorn squeekies, butterfly crinkly and Dunkin donuts pink donut/bag toys, Bark Bark Yip Yip travel mug, Bully sticks, pink squeaky boomerang toy, Rad flyer frisbees, Chewnola bars, Milk bones, Stella & Chewy raw meal mixers and Much More!! This also includes the "My favorite people have paws" items – Oven mitts, scrub cloths, water bowl, Treat/Food containers and Kitchen towels.
Donated by: Terrence Fitzgerald
L005 — XL Stuffed GSD — $160.00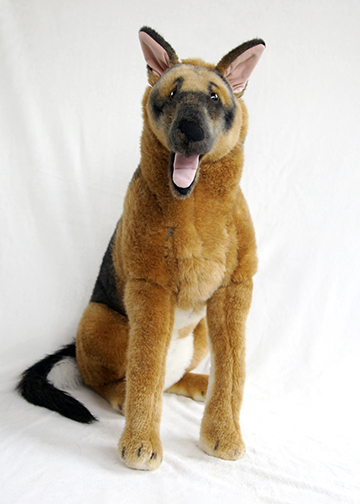 This is the ultimate stuffed animal — a Vintage Melissa & Doug jumbo German Shepherd!. This friendly German Shepherd is ready to go home with you! Gentle and well behaved, this beautifully  constructed doggy is made of soft, furry fabric with attention to every detail. It is life sized at 32″ tall and very fluffy. He'll look great watching over any room in your house.
Donated by: Alexis Ortiz
L006 — GSD Bardic Cooler Lunch Bag With Snacks — $65.00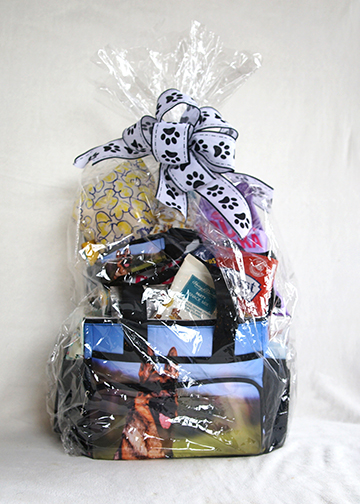 This GSD lunch bag/cooler bag is leak proof and thermally insulated. It is large enough to fit 24 cans of your favorite beverage and has 2 front pockets to store extra items along with handles and a strap. It comes filled with snacks including popcorn, juice, Gatorade, peanuts, fruit snacks, cookies etc., and it also includes ice packs. Beach season is coming!
Donated by: Tina Russo
L007 — German Shepherd Tote Bag — $26.00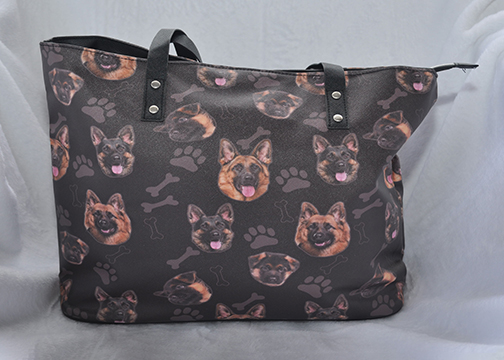 This German Shepherd print tote bag is made of superior leather quality that's water and crease proof. It zips on the top and is perfect for travel, to use as a shopping bag, or as an everyday purse. Stick a book inside along with your water bottle and head outside to enjoy the warm spring air.
Donated by: Tina Russo
L008 — GSD Dog Wreath — $130.00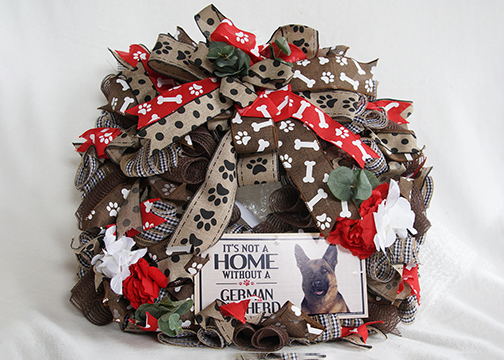 This custom one-of-a-kind GSD decorative mesh wreath will look lovely on your front door, in your kitchen or another place of your choosing. This wreath is made by Kim's Rockin' Wreaths
Donated by: Jim and Tracy Harvey
L009 — Overnight Stay with Breakfast — $350.00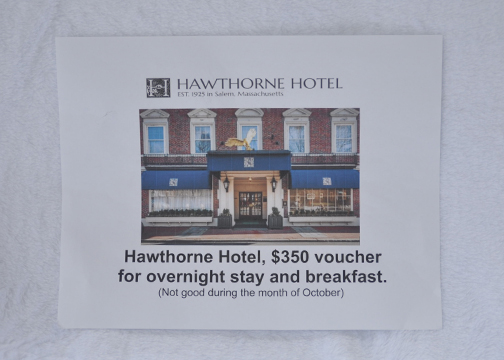 Enjoy an overnight getaway at the historic Hawthorne Hotel in Salem. When you venture down the hallway to the hotel rooms, you'll find beautiful and quaint rooms, still historically true in architecture and ambiance. The rooms are designed to comfort guests as they visit to immerse themselves in all that Salem, MA has to offer. Located within comfortable walking distance to shops, restaurants, and the harbor. Kids and pets are welcome! (Not valid in October!)
Donated by: Kristina Petty
L010 — GSD Tote — $30.00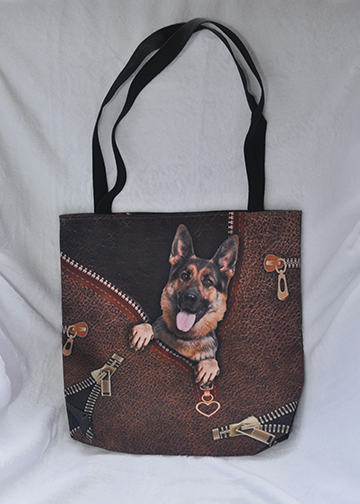 Everyone can use one of these! This XL tote is well made, sturdy and has a beautiful German Shepherd on both sides. Keep it in your car to use instead of single-use bags when shopping. 
Donated by: Marie Guide
L010A — Beats Wireless Studio Buds  — $99.00
Beats Studio Buds are engineered to deliver powerful, balanced sound in a compact design. With two  distinct listening modes, you are in total control of your sound. Active Noise Cancelling continuously blocks unwanted outside noise and dynamically adapts to your surroundings. When you need to hear the world around you, switch to Transparency mode at the press of a button.
Donated by: Chris & Tomas Harriman
L011 — In-Studio Photography Session — $645.00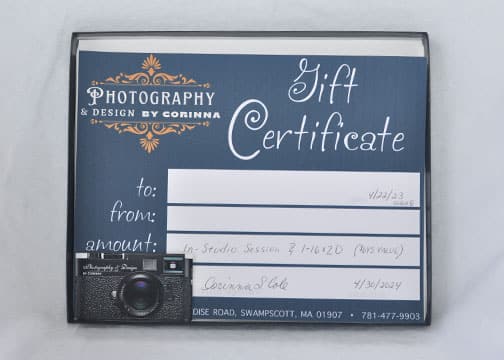 If you've ever been to Jeannie's house, you've seen Corinna's work in the gorgeous, lit portraits of her past German Shepherd dogs, Bruschi and Miya. If you haven't seen them, then you are in for a treat when you get see the picture of YOUR dog. You'll bring your best friend to have an in-studio photo session with experienced animal photographer Corrina Cole. This will include a 16″x20″ photo.
Donated by: Photography & Design by Corinna Cole
L012 — Wolf Hollow Guided Tour – 4 Tickets — $72.00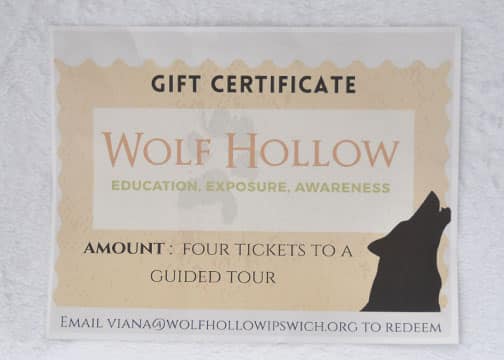 Wolf Hollow, aka the North American Wolf Foundation, is a 501(c)3 non-profit wolf sanctuary and educational facility. You will have a unique opportunity to meet the resident grey wolves in an enlightening one-hour educational tour!  During this time visitors will observe the wolves interacting with their pack-mates at close range. This tour is handicap accessible.
Donated by: Wolf Hollow
 L013 — 4 Tickets to New England Revolution, Sat June 17, 2023  —  $140.00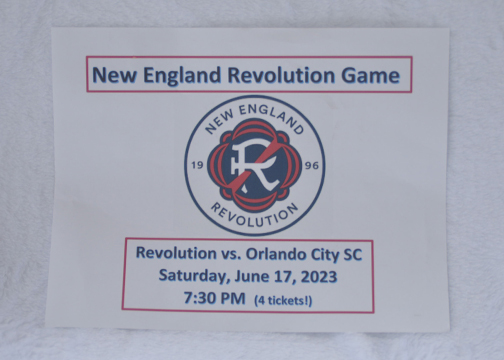 Soccer fans, this one is for you! The "other" football at Gillette is the star here. On Saturday, June 17th, you and 3 friends can be in the seats cheering on the New England Revolution as they take on Orlando City S.C. at 7:30 pm.
Donated by: Jonathan Carter
L014 — Aurora Borealis Illuminated Dreamcatcher Collection — $80.00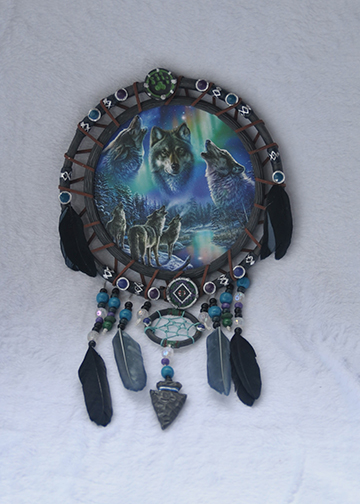 A limited-edition FIRST! Native American-inspired dreamcatchers with James Meger wolf art illuminate with the changing colors of the Aurora Borealis.
This dreamcatcher is enhanced with embellishments inspired by Native American artifacts, including  hand-sculpted arrowheads, polished and faceted beads, and geometric medallions. Wolf paw prints, real string, leather lacing and real feathers add to the design's intrigue, all hand-applied by skilled  artisans. And with the flip of a switch, the sky in the artwork illuminates in waves of green, blue and  violet – just like the Northern Lights!
Donated by: Deborah Saperia
L015 — German Shepherd Cuckoo Clock — $200.00
Pass the time with this collectible German Shepherd Cuckoo clock. This "Make a Heart a Home"  Cuckoo is a limited-edition Bradford Exchange clock. Two beautiful German Shepherds grace the  face of the clock, with two more on the base of this custom-crafted wooden wall clock. Your heart  will be stolen each hour when a GSD puppy pops out and marks the hour with a bark.
Donated by: Carol Berdar
L016 — GSD Vintage Etchings — $80.00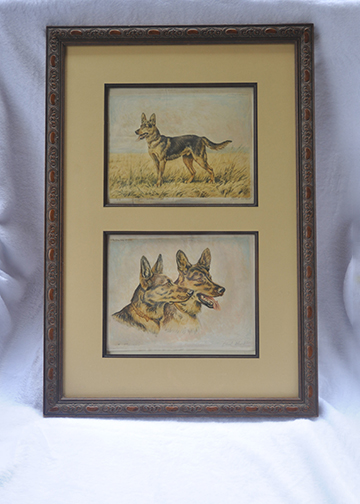 There are two etchings from the 1930s in one frame. These etchings are in pencil, signed and titled by the artist, and professionally framed. Put a little history in your home with these shepherds.
Donated by: Carol Berdar
L017 — Men's Chanel Fine Fragrance set — $395.00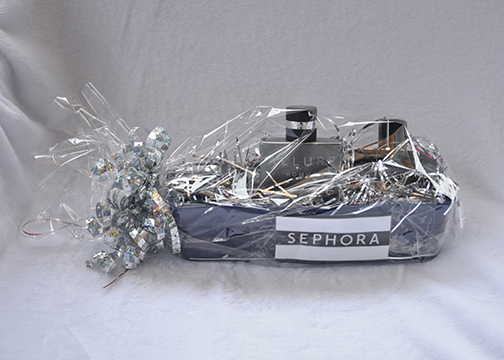 This set is for the guys. There are three different Chanel fragrances for men. Chanel Allure, with it's fresh, spicy and woody notes is for the man who loves the outdoors. Allure Homme Sport, adds a generous citrus freshness with a subtle spicy peppery smell, along with woody cedar and white musk. Bleu de Chanel is fresh, clean and profoundly sensual, the woody, aromatic fragrance reveals the spirit of a man who chooses his own destiny. Citrus mixed with cedar, amplified by tonka bean and vanilla with a touch of sandlewood.
Donated by: Shawn Simpson
L018 — Yeti Dog Bed — $225.00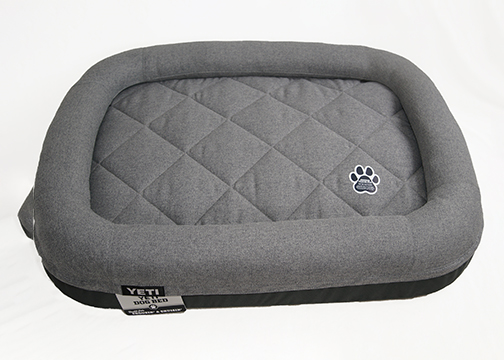 Your dog will love this bed (and love you for bringing it home)! Not only is it comfortable, this YETI dog bed is washable! Just unzip the top portion, and wash in cool water. The base of the bed is  made from foam, so that can be spot cleaned when needed.
Donated by: Valjean McMahon
L019 — GSD Print "Bone Appetit" — $45.00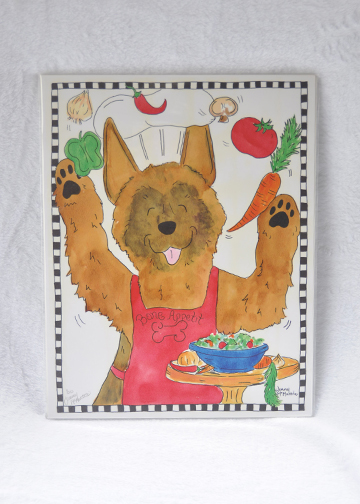 This whimsical German Shepherd brings thoughts of friends gathering around the table to enjoy good food and good company. Add a little lightness to your world with this hanging in your home or camp. Let it inspire your inner chef. It is 11″x14″ and is signed by the artist, Jenny McMurtrie
Donated by: Carol Berdar
L020 — Whale Watching Tickets — $250.00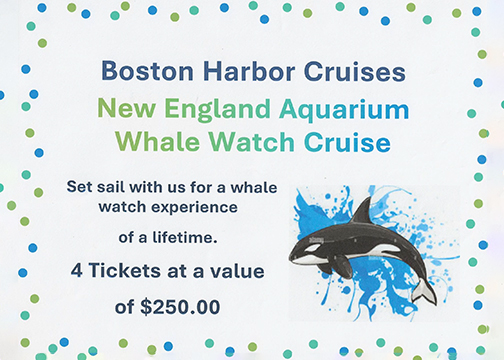 Set sail with Boston Harbor Cruises for the whale watch experience of a lifetime. The destination: Stellwagen Bank Marine Sanctuary, a rich feeding ground for whales, dolphins, sea birds and other  marine creatures. Stellwagen is home to many species of large whales, including humpbacks, finbacks and minkes, and the critically endangered right whales. There are four tickets so you can bring your entire family or friends.
Donated by: Boston Harbor Cruises
L021 — Stitches Red Sox Full Zip Hoodie — $70.00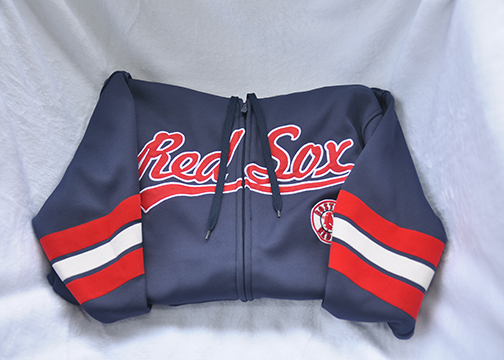 Spring is here and with it comes baseball! Score a home run with this official Red Sox full zip hoodie!  The hoodie has Red Sox written across the front so everyone will know who you are cheering for when you wear this. Who do you know that would love to wear this? Could it be you?!
Donated by: Carol & Mark Young
L022 — Carved GSD Statue w/optional Stand — $250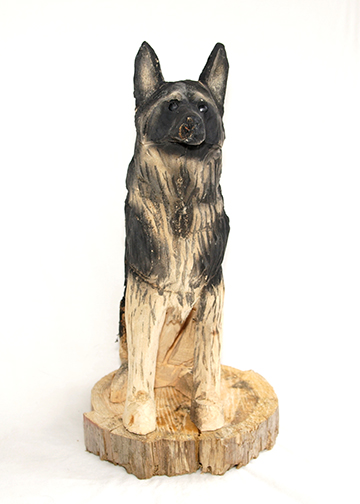 Can you imagine carving with a chainsaw? This standing GSD carved statue is a unique piece of art!  Beautifully carved by local artist Randy Burt Jr. from "Tree of Life Chainsaw Carvings."  Let this carving add to the beauty of your garden, or let it guard your porch. Indoors, this would make a lovely focal point near your hearth. 
Donated by: E. Curran
L023 — XL Orthopedic Dog Bed — $80.00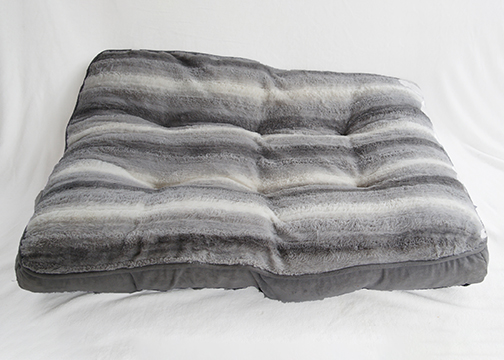 This grey and white striped orthopedic dog bed is for dogs up to 100 lbs. The bed is intended to provide joint relief for older dogs or just amazing comfort to the younger ones. Removable zipped cover is machine washable.
Donated by: Marie Guide
L024 — Whimsical GSD Art Print — $45.00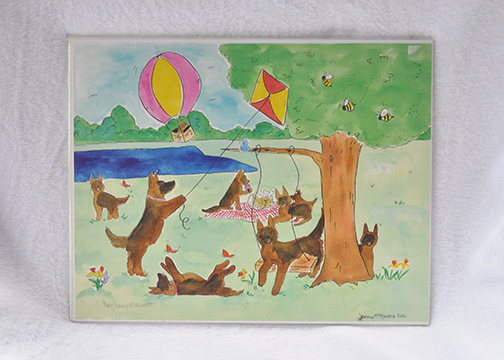 These German Shepherds know how to enjoy summer activities! This happy theme will put a smile on your face and whimsy in your home. It is 11″x14″ and is signed by the artist, Jenny McMurtrie
Donated by: Carol Berdar
L025 — White Sweatshirt, Adult Large 42-44 — $20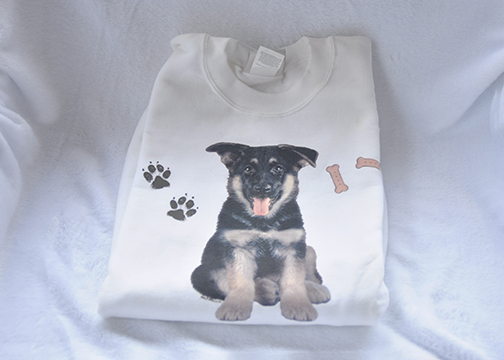 Who doesn't love puppies! You'll fall in love with this adorable German Shepherd puppy sweatshirt. Great for dog walking, this sweatshirt is sure to keep you warm and stylish all day long. 
Donated by: Jeanne Hartnett
L025A — Ninja Double Oven Convection & Air Fryer — $300.00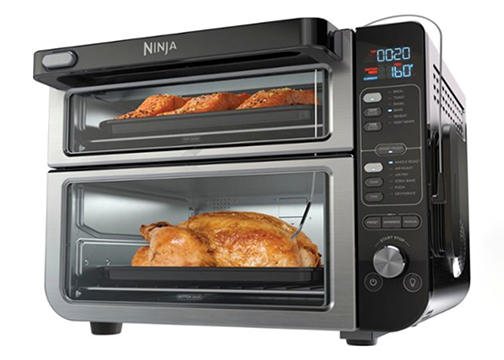 The Ninja Double Air Fryer Oven with smart cook system thermometer, allowing precision  temperature control, and has the power of two ovens while taking up just the space of one. The FlexDoor creates 2 separate ovens so you can cook 2 meals, 2 ways at different temperatures and  cooking times. Sync both independent ovens to cook a full meal that finishes at the same time with  Smart Finish technology. The Smart Cook System precisely monitors temperatures, so you don't have to. Plus, it features 12 cooking functions.
Donated by: Laura DiDio
L026 — Dog and People Basket — $218.00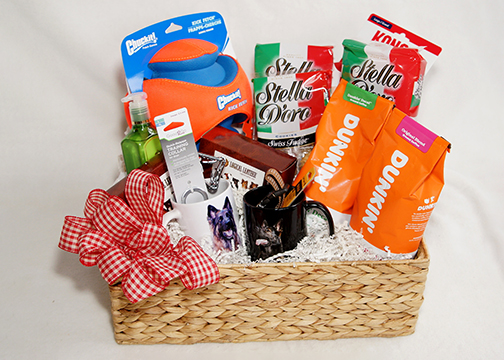 This basket contains different collars for your dog to wear, from a leather padded dog collar, to a quick release training collar. Reward your dog afterwards by playing with the Kong Classic flyer dog toy or a Chuck-it Kick Fetch Ball. Treat yourself to a good cup of Dunkin Coffee in one of these pretty mugs and a few Stella Doro cookies. Also, includes Eucalyptus mint hand soap for freshening up afterwards.
Donated by: Peggy Serino
L027 — Google Nest Thermostat — $199.00
The Nest Thermostat helps to save on heating and cooling bills, and we can all use that! Most home  aren't the same temperature in every room. With the Nest Temperature Sensor, you can let your  thermostat know which room should be a certain time of day. For full access to the features  including remote control, mobile alerts, and software update, the Nest Thermostat requires a Wi-Fi  network, a working internet connection, a compatible mobile devise, the free Google Home app, and  a Goggle Account. Batteries are included!
Donated by: Constance Whittall
L028 — GSD Puppy Sitting Welcome Sign — $40.00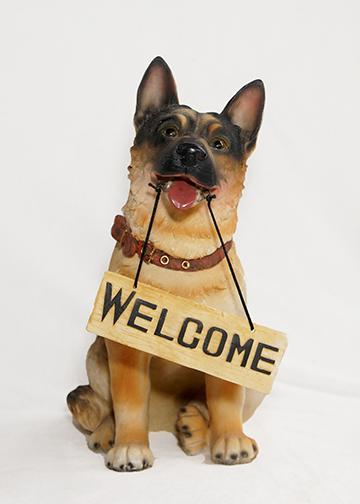 Your guests will get a friendly welcome from this happy puppy! He's made of a resin material and  intended to keep you company indoors.
Donated by: Karen & Ted McCall
L029 — 2 Etched Glasses — $26.00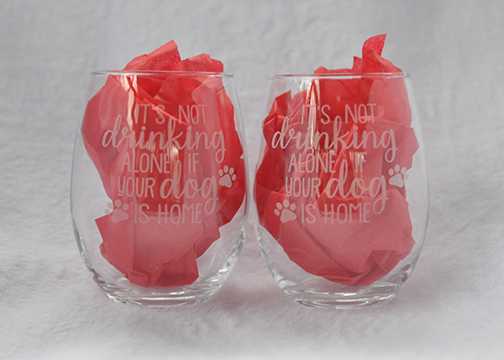 These stemless wine glasses are ideal for dog lovers. They are laser engraved with "It's Not Drinking Alone If Your Dog Is Home." Add a touch of light-heartiness to your barware collection or table setting.
Donated by: White Sands Etching
L030 — Boston Duck Tour 2 Person — $100.00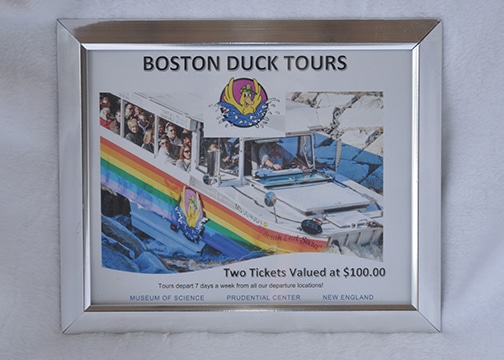 You are bidding on 2 complimentary passes for a Boston Duck Boat Tour, the only tour operator that can traverse both land and water to deliver breathtaking views all in one tour. You'll cruise by unique neighborhoods and historical landmarks that make Boston the birthplace of freedom and a city of firsts. ConDUCKtors put their unique spin on each tour, making it fun and educational for kids and history buffs alike. Leaves from the Museum of Science and may be redeemed in person at the Ticket Booth.
Donated by: Boston Duck Tours
L031 — GSD Watercolor Print Modern Dog Portrait — $20.00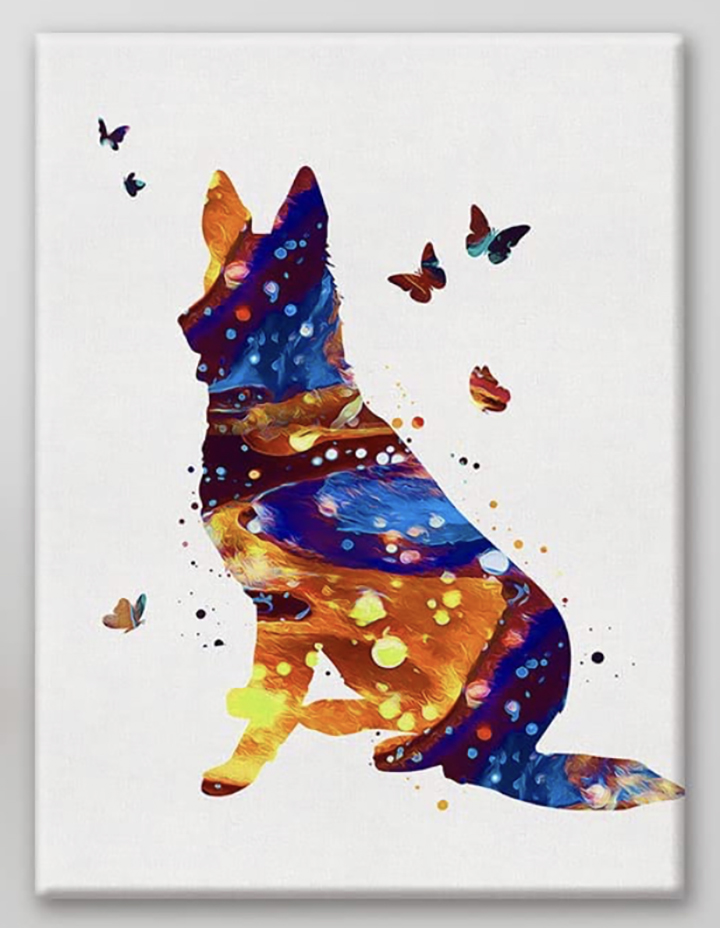 Are you ready to hang this colorful modern pet portrait? It will add color and interested when displayed in your favorite living space. With its vivid watercolors, it will bring a warmth to your room as we emerge from a cold winter. Will make a cute gift idea for any dog lover.
Donated by: Tina Russo
L032 — Yarina Sweater — $60.00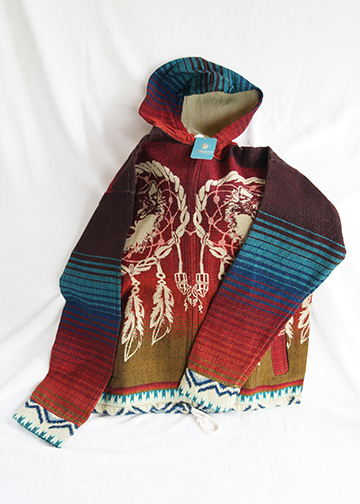 This beautiful, vintage sweater was made in Ecuador, and is a masterpiece of great design, hard work, and attention to detail. Because wolves look so similar to our beloved German Shepherds, many of us also love wolves like the one on this comfy sweater. 
Donated by: Diane Dyer
L033 — Slim Cycle Exercise Machine — $225.00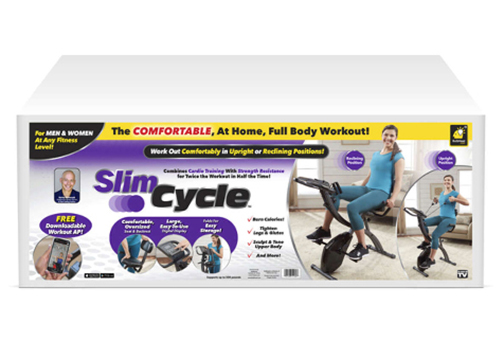 Keep in shape without leaving your home with this full-body workout. This exercise machine has an oversized seat, a back support cushion, padded support handles and a large digital display. It combines cardio training with resistance strength training and has both upright and reclining positions allowing you to pedal away calories comfortably at home! When you are done, the Slim Cycle folds for easy storage.
Donated by: Thelma Hartnett
L034 — Canvas Tote Summer Fun Gift Basket — $87.00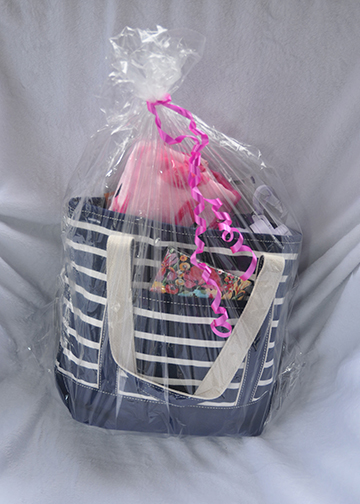 This navy and white tote bag from Lands End is filled with fun summer items, such as a whimsical beach towel, a "Life is good" water bottle, a journal and snacks. Trekking your stuff to the beach or pool just got better thanks to this packable canvas tote. Not only does it look the part, it's made from flexible-yet-sturdy 100% cotton canvas with a reinforced handle for strength. And when it's time to pack it up, the whole thing lies flat for easy storage.
Donated by: Carol & Mark Young
L035 — Pink Flamingo Metal Sculpture — $40.00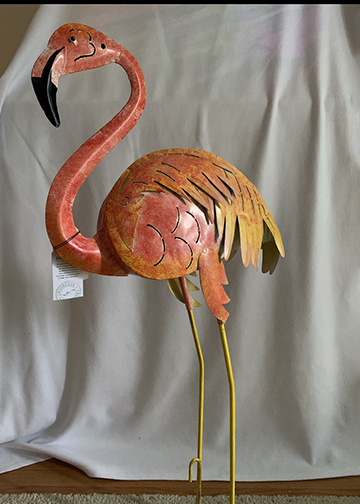 This stunning Pink Flamingo sculpture will add a touch of whimsy to your garden or home. This piece is handcrafted so each piece is unique. It features vibrant, fun colors and stands 38″ high. Bring a little of the South into your yard or garden!
Donated by: Carol & Mark Young
L037 — GSD Welcome Sign — $60.00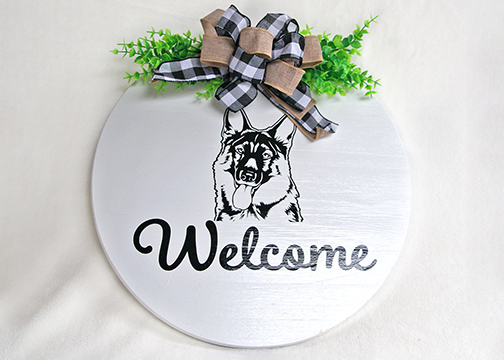 This Welcome Sign is handmade with love. Made with wood and decorated with our favorite breed:  the German Shepherd! This custom wreath style door hanger makes an adorable addition to your front door or entryway. Let your Shepherd welcome your guests with this handmade sign. It is finished with a bow and greenery.
Donated by: E. Curran
L038 — GSD "Lying in Snow" Poster — $200.00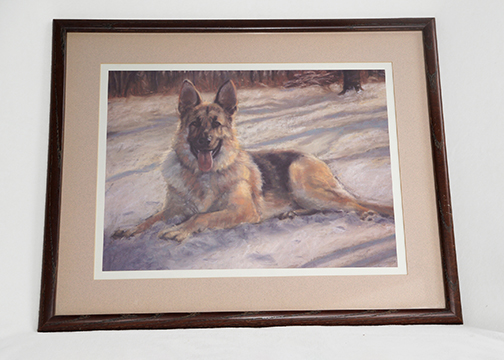 This 1980s poster features a majestic German Shepherd relaxing in the snow. Done in muted tones and professionally framed this is sure to be the focal point of any room. Bring high quality wall art  into your home or office with your favorite subject: German Shepherds!
Donated by: Carol Berdar
L038A — 10-Day Board and Train — $2,700.00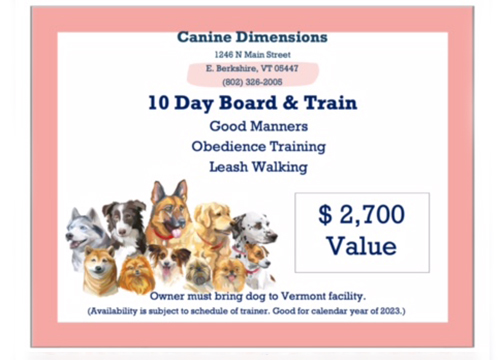 MaryAnne tells us she is a dog trainer who owns a franchise with Canine Dimensions. She is offering to have a German Shepherd to come for a 10-day board and train program. This could include: Good Manners, Obedience Training and/or Leash Walking. You must bring your dog to her Vermont facility. The certificate is good for the 2023 calendar year and availability is subject to the trainer's schedule.
Donated by: Maryanne Wood
L039 — GSD Long sleeve Tee, Men's Medium — $35.00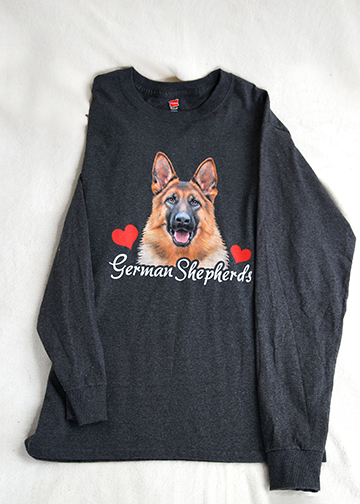 This Hanes medium, long-sleeve tee is tagless for superior comfort. It features a handsome GSD with a red heart, implying you "Love German Shepherds."  If you do, this shirts for you!
Donated by: Marie Guide
L040 — Pizza Wheel — $175.00
Take your pizza night to a whole new level! This pizza stone is oven safe to 550 degrees so your pizza crust will be perfectly crispy every time. Making your own pizza insures it will be exactly as you like it! When you go home with these items, you'll have (almost) everything you need to make homemade pizza. This comes with Pampered Chef pans, tools and seasonings. Everyone loves "Pampered Chef!"
Donated by: Jim and Tracy Harvey
L041 — Dessert Charcuterie Board — $100.00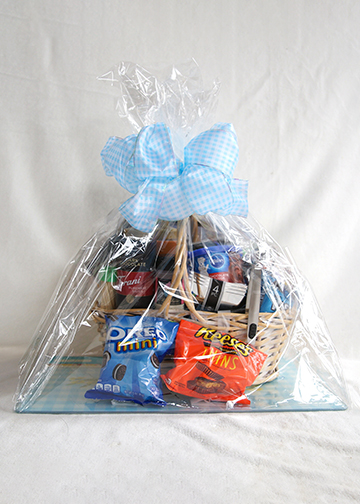 Charcuterie boards are all the rage right now! From olives to cheese and all the meats in between they're everywhere. This is NOT THAT Board! Let dessert rule the day or coffee, hot cocoa, ice cream, fondues, etc. The premium rich dark chocolate sauce or silky caramel sauce are perfect for dipping or drizzling paired with seasonal fruits. The shaker's work perfectly with powdered sugar or cocoa powder. It's different every time! Get creative with it! The possibilities are endless and "Oh so Yummy!"
Donated by: Lauralee Davis
L042 — Welcome Sign — $74.00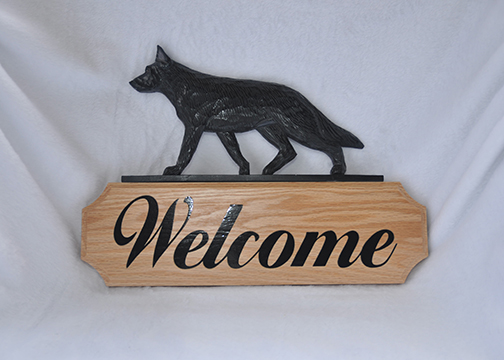 What a wonderful way to greet your guests (or yourself) with this lovely Michael Park "Dog in Gait" welcome sign. It is artfully crafted on solid oak depicting a German Shepherd. Glorious sign!
Donated by: Deb Davis
L043 — Collection of 18 GSD Christmas Ornaments — $200.00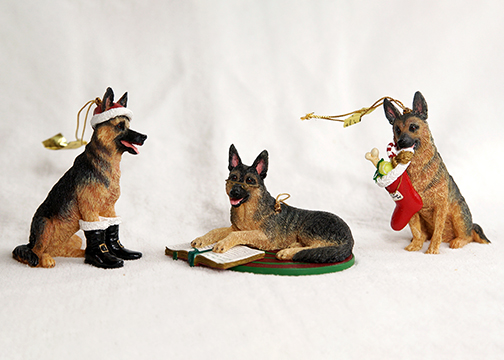 Look closely at the dogs and notice the Christmas features. Each ornament is unique, with wonderful expressions and details. Your tree could have German Shepherds sprinkled in with regular bulbs or go all out and make a GSD themed tree!
Donated by: Carol Berdar
L044 — Piedmont Pet Diner with Storage — $80.00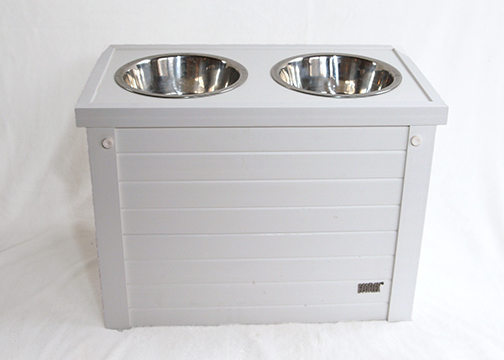 Elevate your dog's dining experience with this raised bowl feeder with built-in locking storage. The top slides open to reveal plenty of room for food and treats. This all-in-one diner storage container is a real space saver that's perfect for small spaces in the kitchen or camper. The hidden storage compartment accommodates 15–20 lbs. of pet food.
Donated by: Annette Posell
L045 — Six Admission Tickets to Salem Witch Museum — $80.00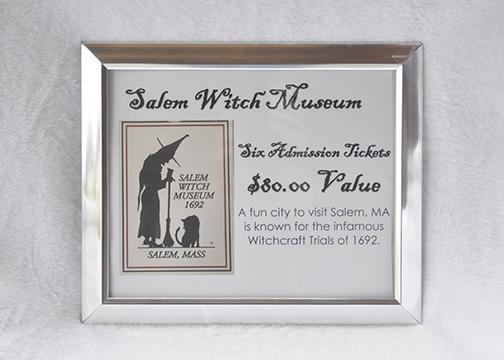 Spend the day in Salem, and visit the witch museum with these six admission tickets. Learn about the witch trials, the museum and of Salem's rich history. It's sure to be an enlightening experience.
Donated by: Salem Witch Museum Salem Witch Museum
L046 — Hand Woven Leather Leash — $30.00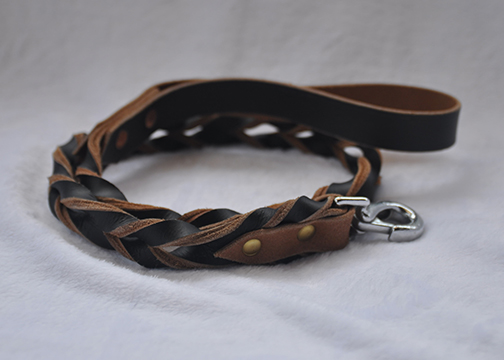 This leash is hand woven from high-quality single strand leather. It is 4-feet long for to give you excellent control when you need it. The grommets are hand stamped for safety and it uses a lobster clasp for easy to open use and superior strength. Each leash is unique. 
Donated by: Valjean McMahon
L047 — German Shepherd Dog Planter — $30.00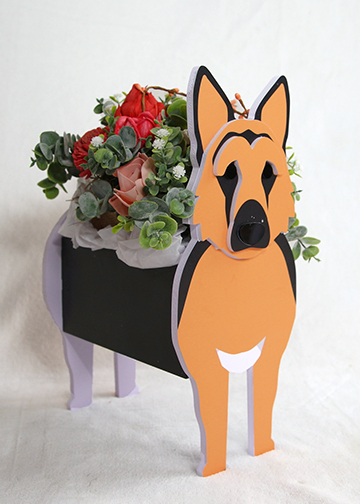 This handsome GSD planter is a perfect addition to your patio or inside your home. The Shepherd design is sure to catch your eye! This charming flowerpot provides a simple and elegant way to present plants and add a unique charm to your home.  Designed for both indoor and outdoor use.
Donated by: Tina Russo
L048 — GSD Walnut Wood Sculpture — $88.00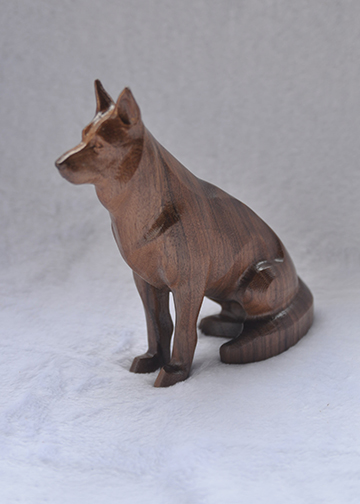 This handmade walnut sculpture is a beautiful likeness of a German Shepherd. It's carved from a solid block of wood and measures 6.75″H x 2.6″D. The carving is dedicated to the artists beloved Rocky, who lived with them 11 good years. 
Donated by: Gail & Ken Van Hoesen
L049 — Rooster Garden Decoration — $20.00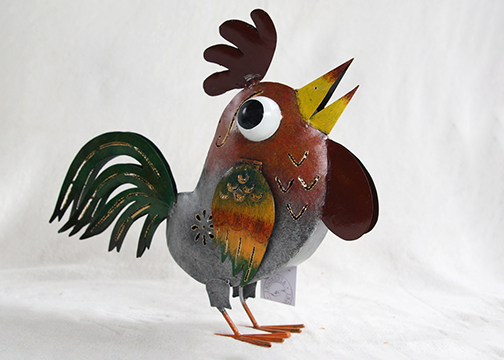 Have you thought about owning chickens? This is your chance with this whimsical metal rooster decoration. It will add a touch of fun and color to any garden or home.
Donated by: Carol & Mark Young
L050 — Yeti "Boomer" 8 Dog Bowl — $50.00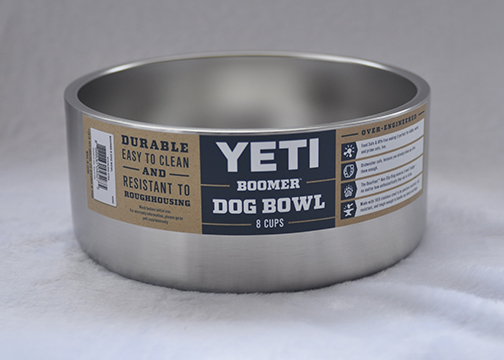 Use it for kibble or water, it holds 8 cups. It is stainless steel and is dishwasher safe. High quality, stays in place and is easy to clean. Recommended by many foster GSD dogs!
Donated by: Valjean McMahon
L051 — Dog Sling – Large — $27.00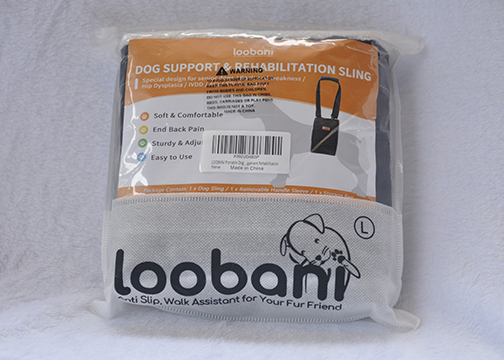 This Loobani large dog sling helps reduce the stress on arthritic or injured joints to reduce pain and facilitate increased motility. The adjustable-length straps help humans of all sizes stand up straight and avoid back pain. Easy to put on and take off, so it minimizes stress and frustration for both you and your dog.
Donated by: Deb Davis
L052 — XL Kurgo Car Harness — $40.00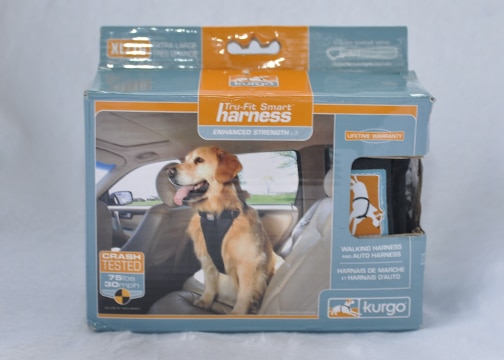 Your dog wants to be with you as much as possible, including going for car rides. Keep yourself, your passengers, and your dog safe with this car harness. It is well-made and has a padded chest piece for both comfort and safety. It has quick release buckles and includes a 10-inch seatbelt attachment to allow for movement.
Donated by: Marie Guide
ALL AUCTION ITEMS
| | | |
| --- | --- | --- |
| Auction ID | Title | Value |
| B000 | Arcadia Trail Leash & Collar Set | $36.00 |
| B001 | XL Top Paw Orthopedic Mattress Dog Bed | $80.00 |
| B002 | Good Vibes Gift Basket | $40.00 |
| B003 | Orvis Rear Dog Lift- XL | $45.00 |
| B004 | GSD Coasters (set of 4) | $20.00 |
| B005 | Petmate Gravity Feeder | $15.00 |
| B006 | Palm Tree Leash & Collar Set | $50.00 |
| B007 | Charles Wysocki Puzzle | $12.00 |
| B008 | Framed Picture of 2 GSDs | $10.00 |
| B009 | Harbor Candy Shop Ornament | $26.00 |
| B010 | Knotty Totty GSD Picture with Wooden Flowers | $50.00 |
| B011 | Wood German Shepherd Leash Rack | $25.00 |
| B012 | Furminator Vacuum Accessory | $26.00 |
| B013 | The Bradford Exchange "Little Troopers" Ceramic | $25.00 |
| B014 | XL Reflective Dog Safety Vest | $24.00 |
| B015 | Paw Print Welcome Sign | $40.00 |
| B016 | Little Dog Love Basket | $60.00 |
| B017 | Lug Lay Flat Cometic Base—Paws Black | $25.00 |
| B018 | Jolly Pets 4.5" Blueberry Ball | $13.00 |
| B019 | The Bradford Exchange: "Faithful Friend" | $15.00 |
| B020 | 2 Stainless Steel Dog Food Bowels XL | $15.00 |
| B021 | GSD License Plate | $7.00 |
| B022 | Orvis Front End Dog Lift- XL | $45.00 |
| B023 | Dogs Welcome, People Tolerate | $15.00 |
| B024 | Garden Gift Basket | $66.00 |
| B025 | Google Nest Thermostat | $199.00 |
| B026 | Small Red Jolly Ball | $10.00 |
| B027 | Vintage (1960's) Painting 24″x 20″ | $70.00 |
| B028 | Homemade candles in crafty basket | $100.00 |
| B029 | GSD Splash proof black stainless-steel tumbler | $20.00 |
| B030 | Books GSD, Paws & Order, Tales from the Bark | $10.00 |
| B031 | GSD Watercolor Print | $25.00 |
| B032 | Dog Bone Placemat | $6.00 |
| B033 | Ganz Heritage German Shepherd Stuffed Animal | $18.00 |
| B034 | Occupi-Smart Chew Toy | $8.00 |
| B035 | Large Canvas Folding Pet and Toy Box | $12.00 |
| B036 | Art Print "Dog Days of Summer" | $30.00 |
| B037 | "I just want to drink Wine and Rescue Dogs" | $5.00 |
| B038 | 8×10 Photo of Jakobi Meyers | $40.00 |
| B039 | White T-shirt size 2X | $15.00 |
| B040 | Furminator | $16.00 |
| B041 | Welcome Home Doormat | $25.00 |
| B042 | Art Print: "Ice Cream Sundae Shepherd" | $30.00 |
| B043 | Guardian Gear XXL safety vest | $28.00 |
| B044 | German Shepherd American Flag T-shirt | $18.00 |
| B045 | "Love Has No Age Limit" Book | $10.00 |
| B045 | Arcadia Reflective Collar | $16.00 |
| B046 | Peace Love and Rescue Kitchen Towels | $9.00 |
| B047 | The Bradford Exchange "The Rookies" Ceramic P | $25.00 |
| B048 | "Beware of Dog Kisses" sign | $15.00 |
| B049 | 6″ Small Red Jolly Ball | $15.00 |
| B050 | GSD Art Print: "Stars & Moon Shepherds" | $45.00 |
| B051 | Pillow Pet Bed XL | $40.00 |
| B052 | Limited Edition Decorative GSD Plate | $25.00 |
| B053 | Gift Card for Kimball Farm | $25.00 |
| L000 | Kong Collar, Leash and Removable Treat Bag | $50.00 |
| L001 | Lug Medium 2 piece Crossbody-Tenor Paws Blac | $79.00 |
| L002 | Woman's Channel Fragrance Basket | $330.00 |
| L003 | Vera Bradly "Best of Breed" Dog Bed | $95.00 |
| L004 | "This Ones For the Girlz" Basket | $160.00 |
| L005 | XL Stuffed GSD | $160.00 |
| L006 | GSD Bardic Cooler Lunch Bag With Snacks | $65.00 |
| L007 | German Shepherd Tote Bag | $26.00 |
| L008 | GSD Dog Wreath | $130.00 |
| L009 | Overnight Stay with Breakfast | $350.00 |
| L010 | GSD Tote | $30.00 |
| L010A | Beats Wireless Studio Buds | $99.00 |
| L011 | In-Studio Photography Session | $645.00 |
| L012 | Wolf Hollow Guided Tour – 4 Tickets | $72.00 |
| L013 | 4 Tickets to New England Revolution Sat June 1 | $140.00 |
| L014 | Aurora Borealis Illuminated Dreamcatcher Collect | $80.00 |
| L015 | German Shepherd Cuckoo Clock | $200.00 |
| L016 | GSD Vintage Etchings | $80.00 |
| L017 | Men's Channel Fine Fragrance set | $395.00 |
| L018 | Yeti Dog Bed | $225.00 |
| L019 | GSD Print "Bone Appetit" | $45.00 |
| L020 | Whale Watching Tickets | $250.00 |
| L021 | Stitches Red Sox Full Zip Hoodie | $70.00 |
| L022 | Carved GSD Statue w/optional Stand | $250.00 |
| L023 | XL Orthopedic Dog Bed | $80.00 |
| L024 | Whimsical GSD Art Print | $45.00 |
| L025 | White Sweatshirt Adult Large 42-44 | $20.00 |
| L026 | Dog and People Basket | $218.00 |
| L027 | Google Nest Thermostat | $199.00 |
| L028 | GSD Puppy Sitting Welcome Sign | $40.00 |
| L029 | 2 Etched Glasses | $26.00 |
| L030 | Boston Duck Tour 2 Person | $100.00 |
| L031 | GSD Watercolor Print Modern Dog Portrait | $20.00 |
| L032 | Yarina Sweater | $60.00 |
| L033 | Slim Cycle Exercise Machine | $225.00 |
| L034 | Canvas Tote Summer Fun Gift Basket | $87.00 |
| L035 | Pink Flamingo Metal Sculpture | $40.00 |
| L037 | GSD Welcome Sign | $60.00 |
| L038 | GSD "Lying in Snow" Poster | $200.00 |
| L039 | GSD Long sleeve Tee Men's Medium | $35.00 |
| L040 | Pizza Wheel | $175.00 |
| L041 | Dessert Charcuterie Board | $100.00 |
| L042 | Welcome Sign | $74.00 |
| L043 | Collection of 18 GSD Christmas Ornaments | $200.00 |
| L044 | Piedmont Pet Diner with Storage | $80.00 |
| L045 | Six Admission Tickets to Salem Witch Museum | $80.00 |
| L046 | Hand Woven Leather Leash | $30.00 |
| L047 | German Shepherd Dog Planter | $30.00 |
| L048 | GSD Walnut Wood Sculpture | $88.00 |
| L049 | Rooster Garden Decoration | $20.00 |
| L050 | Yeti "Boomer" 8 Dog Bowl | $50.00 |
| L051 | Dog Sling – Large | $27.00 |
| L052 | XL Kurgo Car Harness | $40.00 |
| Pull | German Shepherd Cuckoo Clock | $200.00 |
| Y001 | Biscuit and Tea Basket | $50.00 |
| Y002 | White T-shirt size 2X | $20 |
| Y003 | The Danbury Mint – "A Winter Friend" Plate with | $15.00 |
| Y004 | GSD Pink Stainless Steel 20oz Tumbler | $22.00 |
| Y005 | Furminator nail grinder | $47.00 |
| Y006 | Wolf Mission Hoodie Size L | $40.00 |
| Y007 | Grunting Pig Toy | $8.00 |
| Y008 | Eddie Bauer Dog Coat XXL | $40.00 |
| Y009 | Occupi smart chew toy | $8.00 |
| Y010 | New England Patriots Cutting Board | $14.00 |
| Y011 | Dog Coat for BIG Dogs Size 3XL | $40.00 |
| Y012 | Stainless steel frame picture of long haired GSD | $40.00 |
| Y013 | GSD Porch Sign | $40.00 |
| Y014 | Jewelry Box | $20.00 |
| Y015 | "Dogs Welcome People Tolerated" Sign | $15.00 |
| Y016 | Adult Rottweiler Statue | $40.00 |
| Y017 | Orvis Rear Dog Lift- XL | $45.00 |
| Y018 | "Life Is Better When I'm With My Dog" sign | $10.00 |
| Y019 | Douglas Harko Black GSD Plush Stuffed Animal | $15.00 |
| Y020 | Wooden Plaque | $12.00 |
| Y021 | Lilly Pulitzer Sea Shell Collar & Leash | $50.00 |
| Y022 | Furminator Set – DE shedder and Nail Grinder | $70.00 |
| Y023 | Charles Wysocki Puzzle | $12.00 |
| Y024 | Yellow and Red Jolly Ball Eggs | $28.00 |
| Y025 | German Shepherd "foozy" socks | $10.00 |
| Y026 | Serengeti Ultimate Tumbler 20 oz. | $25.00 |
| Y027 | "Dogs Before Dudes" Nightshirt | $25.00 |
| Y028 | Small Jewelry Box | $20.00 |
| Y029 | Set of 2 GSD Mugs | $20.00 |
| Y030 | Painting of GSD Mom and Pups | $70.00 |
| Y031 | Lobster-Themed Basket | $40.00 |
| Y032 | Biothane Harness (multifunctional) | $55.00 |
| Y033 | White T-shirt size 2X | $20.00 |
| Y034 | GSD Brandy Glass | $20.00 |
| Y035 | GSD Statue Reclining On His Bed | $25.00 |
| Y036 | "Lilly Pulitzer" Puzzle and Folding Chair | $45.00 |
| Y037 | Large Nautica Dog Jacket | $28.00 |
| Y038 | Poster With 7 GSDs | $25.00 |
| Y039 | German Shepherd "foozy" socks | $10.00 |
| Y040 | Puppy Rottweiler Statue | $27.00 |
| Y041 | Nerf Flyer Toy | $10.00 |
| Y042 | Wonder Wash Hands Free Pet Washer | $81.00 |
| Y043 | Orvis Front End Dog Lift- XL | $45.00 |
| Y044 | GSD Teacup & Saucer | $28.00 |
| Y045 | "You're Not Really Drinking Alone" | $15.00 |
| Y046 | 3-Piece GSD Bathroom Set | $22.00 |
| Y047 | Love Sign | $10.00 |
| Y048 | GSD Art Print "So Many Treats" | $15.00 |
| Y049 | GSD Art Print: "There's No Place Like Home" | $15.00 |
| Y050 | Art Print: ""Easter Shepherds" | $15.00 |
| Y051 | Bulldog Mug | $15.00 |
| Y052 | GSD License Plate | $15.00 |
| Y053 | German Shepherd Wrap | $15.00 |
| Y054 | Easy Walk Harness | $20.00 |
| Y055 | 8″x10″ Photo of Nick Pivetta | $40.00 |
| Y056 | 2 stainless steel dog food bowls (large) | $10.00 |
| Y057 | Duck Decoy | $90.00 |
| Y058 | White Milk Glass Basket with Handle and Candy | $65.00 |
| Y059 | Acadia Paracord Collar | $14.00 |
| Y060 | Fur Wizard Pet Hair Remover | $20.00 |
| Y061 | Kodiak Purple Dog Coat XXL | $50.00 |
| Y062 | Small Red Jolly Ball | $10.00 |
| Y063 | Ceramic Storage Jar | $30.00 |
| Y064 | Art Print: Birthday Party Shepherd | $45.00 |
| Y065 | Art Print: Santa & Sleigh Shepherds | $45.00 |
| Y066 | Art Print: "Bundle Up" | $30.00 |
| Y066 | Picture Frame | $18.00 |
| Y067 | Welcome Beware of Wiggle Butts | $35.00 |
| Y067 | Top Paw Pick-Up Dog Pouch & Leash | $24.00 |