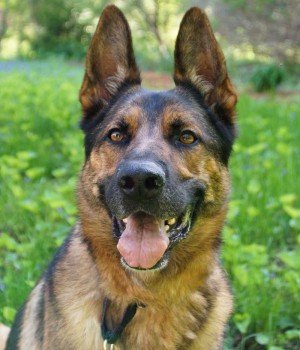 Status: Adopted
Age: 6 years ( DOB 12/6/13)
Size: Medium to Large
Color: Black and Tan
Sex: Male
Activity level: Medium to High
Good with other dogs: no
Good with cats: unknown
Foster parents: Mike & Gina D
Sponsor Buddies: Nancy M. and Nancy N.
Yard Fencing: Required
Click to View More Images.
Password: Zeus
Photos by: Loueen LaVallee

Date Adopted: October 25, 2020
Zeus is 6 years old and is strikingly handsome with big, jewel-like eyes.  His coat has deep, rich browns and is silky soft.  His big personality is a source of happy, cheerful energy, and he is quite smart.  When you talk to him, he tilts his head one way and then the other, and you can see the wheels turning as he tries to understand what you'd like him to do next.
His current routine, in foster care, includes three walks a day and a couple of play sessions in the fenced yard.  He loves to play fetch and will keep at it until his tongue is hanging out…and then he will play some more.  In the evenings, though, when it's time to relax, he'll settle onto his cushion while you watch TV or read; and he sleeps soundly through the night next to the bed.
Zeus has EPI and needs an enzyme powder sprinkled on each meal before he eats.  It's not a big deal, and he eats regular kibble with a little canned food mixed in.  When his people add the enzyme powder, he keeps a good weight and is no different from dogs whose bodies do make that enzyme on their own.
He likes meeting people and makes new human friends quickly.  He wants to avoid contact with other dogs, though.  During his daily walks in the neighborhood and on trails and has learned to trust his foster parents to move quickly past other dogs they pass.   However, playing fetch is his favorite form of exercise; he has a Jolly ball and tennis balls for the yard and squeak toys and indoor balls for playing in the house.
Zeus is used to staying in a crate when his foster parents go to work; they leave a Kong with him, filled with kibble.  When they return he can't wait to rush out of the crate to greet them; but then he whirls around and goes back to grab the Kong to take with him.  He's ready to meet an adopter who will understand the importance of the enzyme powder on his meals and who will return the love and affection he gives so freely.