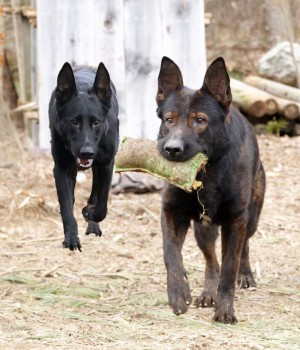 Status: Adopted
Age: est 4 years DOB unknown
Size: Large
Color: Zeus is Sable - Skye is Black
Sex: Male and Female
Activity level: Medium to High
Good with other dogs: yes
Good with cats: Unknown
Foster parents: Scott D.
Sponsor Buddies:
Yard Fencing: Required
Click to View More Images.
Password: Zeus
Photos by: Loueen LaVallee

Date Adopted: April 8, 2023
Zeus and Skye are stunning dogs that certainly live up to their powerful names.  Zeus with his plush dark sable colors and Skye with her jet black shiny coat make a striking pair.
In December, we were contacted by an ACO who had two German Shepherds she was looking to place in a breed experienced rescue.  Zeus and Skye were about 3 or 4 in age and had never been to a vet.  They had spent most of their lives living in a car as their owners didn't have a home.  The dogs had been seized by the ACO, but the owners ultimately relinquished custody so the ACO was now able to proceed with rehoming.  Both dogs, amazingly given their start at life, had friendly personalities and were well liked by the staff.  However, it was clear they had no training and were very high energy, high drive dogs.  They were not dogs the ACO felt comfortable adopting out directly from the shelter to a family until they had some training and time to decompress from their ordeal.  We were very happy the ACO called us as we had a very experienced foster and trainer who was used to working with these types of dogs.  There was one other wrinkle…Skye was clearly pregnant.   We were incredibly lucky that our foster also had experience whelping puppies and was willing to take on this enormous challenge.
Over the next few months, Zeus, Skye, and their 8 healthy puppies learned what it was like to be companion dogs again.  The puppies were born only about 3 days after their arrival to their foster home with 4 males and 4 females, evenly split colors with 4 being all black and 4 sable.  We found Zeus and Skye to be great dogs, incredibly intelligent with very nice personalities who trained quickly.  Skye was a good mom and trusting of her foster family to help wrangle the little ones, it was nice to see that her trust in people was still strong.  Zeus was also fond of being around the family and blossomed during this time.  Both dogs loved spending time running around on pack walks in the woods and getting so much love and attention.  The ACO was absolutely correct when saying both dogs had very high drive.  These were not dogs for the average home as they would need above average exercise and mental stimulation as well as daily training to make sure those traits were channeled into positive activities.  They would need experienced GSD owners.  The same would be true for their puppies as they would likely have inherited these traits from their parents.
Once the puppies were weaned and in carefully selected adoptive homes willing to train and care for this caliber of dog, our attention turned to finding forever homes for Zeus and Skye.  Miracles do happen and we had an experienced applicant interested in both dogs.  We are thrilled to say that Zeus and Skye are now in their forever home.  They will not be breed again and will not know suffering, only love and happiness, now that they are part of the extended GSRNE family.  Congratulations to all.