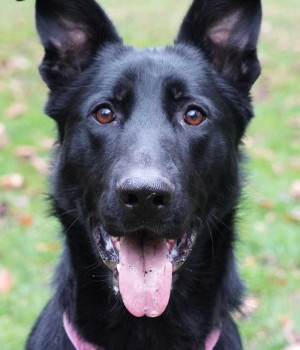 Status: Available
Age: 1.5 years (DOB 2/3/22)
Size: Medium to Large
Color: Black
Sex: Female
Activity level: Medium to High
Good with other dogs: Yes, other friendly dogs
Good with cats: unknown
Foster parents: Loueen and Larry L
Sponsor Buddies:
Yard Fencing: Required
Click to View More Images.
Password: Zara
Photos by: Loueen LaVallee

This all black 1.5 year old cutie, needs a loving home. Zara will be your best friend to play ball with, go hiking with, or happily join you on any adventure she can share with you. At the end of the day when it's time to relax, Zara is happy to lay on her bed at your side.
Zara has also had training, and knows lots of commands, although she could use a little refresher.. She is very food motivated and very smart, loves to learn new things, and has lots of energy..
Zara's owner experienced life changes that made rehoming Zara the best thing for her. With a 3 month old baby and working long hours, poor Zara spent long days in the crate, and her owner was not able to give this young German Shepherd the time or exercise she needed. 
We have only had Zara a short time, but are learning more about her every day. We have learned Zara is a very sweet girl that LOVES to play ball, she is friendly and loves to play with other friendly dogs her size. She enjoys going for rides in the car, and will sit quietly watching the world outside, or just lay down and take a nap.
Zara would love to join your active family where she can be part of your everyday life, get plenty of exercise and enrichment, and never again have to spend long hours in a crate.