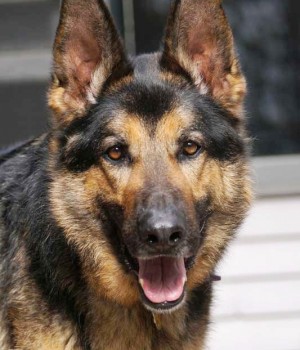 Status: Adopted
Age: 7 Years DOB- 5/6/2010
Size: Large
Color: Black and Tan
Sex: Male
Activity level: Low - Medium
Good with other dogs: with proper introduction
Good with cats:
Foster parents: Larry and Loueen L
Sponsor Buddies:
Yard Fencing: Required
Click to View More Images.
Password: Thor
Photos by: Loueen LaVallee

Date Adopted: July 8, 2017
Age at adoption: 7 yrs old
This handsome boy enjoys meeting new people and seems to be making up for the years when he didn't have much activity.  He had lived with an elderly woman and a female GSD, Tova, who is three months older than he is; and both dogs remained in her apartment after she passed away.  They were cared for by a family member, who fed them and let them out for short breaks in the small yard while making attempts to find adopters for them.  After three months with no success, she called GSRNE for help.
We were able to find foster homes for Thor and Tova, and they both have adjusted well to their new lives.  Thor needed some time to learn to enjoy his expanded horizons; he seemed to feel that he should take care of business when he was outside and then scoot right back into the house.  He didn't know what to do in the large, fenced yard and didn't know how to play with any toys or even chase after a tennis ball.  Fortunately, the resident dog in his foster home has been teaching him that it's fun to play chase games.  She takes off after a tennis ball, and Thor takes off to run with her.  He's also become more comfortable just hanging out with the family in the yard on a nice day.
Thor can be vocal at times; and when the doorbell rings, he breaks out into a howl to sing along.  He enjoys his daily walks and doesn't usually meet other walkers and dogs.  When he does, though, he barks and seems to want to keep moving.  He does have less muscle in one rear leg than in the other and has created a hotspot on that leg, so we're having that checked by a vet.  His loss of muscle tone, due to lack of proper exercise for years, is gradually being overcome by daily walks and play sessions.
Thor is so happy to be with people most of the time, now, that he's content to stretch out nearby and keep them company, whatever they're doing. He would enjoy the companionship of another friendly dog in the house, but we think he'd also be fine as an only dog, soaking up all the attention and affection his forever family would like to share with him.   If you're looking for a low-stress companion, please let us know you're interested in Thor.