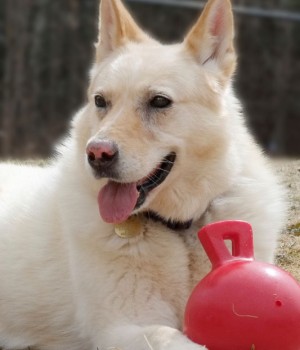 Status: Adopted
Age: 9 years (9-9-2009 )
Size: Medium to Large
Color: White
Sex: Female
Activity level: Medium
Good with other dogs: Yes
Good with cats: No
Foster parents: Karen & Brian B
Sponsor Buddies:
Yard Fencing: Required
Click to View More Images.
Password: Spirit
Photos by: Peter B.

Date Adopted: June 8, 2019
It's always inspiring to see a mature dog's true personality emerge as she/he recovers from the loss of a home, family and familiar surroundings.  This was certainly our experience with Spirit, as she gradually started to trust her foster parents and show them her frisky, playful side.  She needed to lose weight, and the snow was deep in their yard in early March.  At first, she plodded through the chest-high drifts so she could take care of business and then was ready to go back into the house.  As she regained her confidence and lost a little weight, the snow was retreating; and she's now running, jumping and frisking around like the happy soul she really is.  Her foster parents tell us she actually smiles!
Spirit was moved from a kill shelter just before her time was up and was cared for by a rescue that takes in all breeds.  They were impressed with her friendly nature and decided she would have her best chance to find a forever home if she could be where people would look for a German Shepherd specifically.  She has an eye condition, Pannus, that needed to be treated with eye drops twice a day, and she has learned to patiently cooperate while those are put in.  The eye specialist recently switched her to a different medication that will only have to be administered once a day going forward.
One personality trait that is mentioned again and again is that Spirit is very affectionate and eager to give kisses. She enjoys being stroked and scratched behind the ears and, also, being brushed with long, gentle strokes. She has been to a groomer and seemed to enjoy everything except the noisy dryer; during vet visits, she's a model client.  Spirit is polite to visitors to the home and when meeting people during her walks, and she's comfortable around other dogs when she goes to doggie daycare.  She tends to keep to herself, rather than roughhousing, but she moves around with the other dogs and seems to enjoy their company.
If you are looking for a calm, gentle companion who will want, more than anything, to be with you for walks, yard work, car rides and just hanging out, Spirit is waiting to meet you.