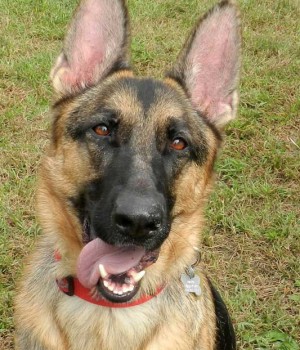 Status: Adopted
Age: 4 Years Old (DOB 7/29/15)
Size: Medium to Large
Color: Black and Tan
Sex: Female
Activity level: Medium to High
Good with other dogs: No
Good with cats: No
Foster parents: Peggy S
Sponsor Buddies: Ron H
Yard Fencing: Required
Click to View More Images.
Password: Shiloh
Photos by: Marie G.

Shiloh is a love bug and enjoys spending time with you, being petted and cuddled.
She's an active girl and gets excited about her daily walks, playing with her soft
toys in the house and playing catch and fetch in the fenced yard. She also gets
excited about meeting new people and has learned to sit, politely, to say hello.
In her foster home, Shiloh is an only dog and seems to appreciate being the center
of attention. In her original home, she was crated too much of the time and took
to chasing her own tail out of boredom; she would, actually, grab and chew on her
tail. After months and months of this, most of her tail had to be amputated, but
she doesn't seem to miss it…she wags her whole rear end to show her
enthusiasm.
One of Shiloh's jobs in her foster home is to chase squirrels and rabbits out of her
yard, so we think she should be in a cat-free home. She's in an urban
neighborhood and enjoys her daily walks on sidewalks, ignoring cars and trucks
that go by. On most weekdays, her foster Mom has clients to visit, and Shiloh is
used to going into her crate and waiting for 3-4 hours; she knows there will be
playtime in the fenced yard and another walk for exercise. She becomes
concerned when seeing another dog on a leash but has learned to look to her
foster Mom for direction and will keep going. Being with her special people is the
most important thing in her life.
If there's room in your heart to give this girl a forever home, please ask us about
Shiloh.