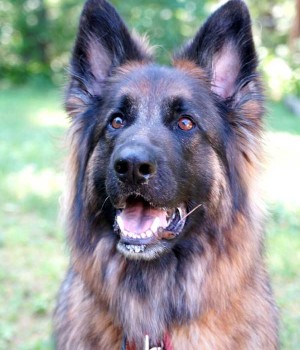 Status: Adopted
Age: 4 1/2 yrs (DOB 2/15/2014)
Size: Large
Color: Black and Tan Long Coat
Sex: Male
Activity level: Medium to High
Good with other dogs: Yes
Good with cats: Unknown
Foster parents: Jeannie M.
Sponsor Buddies:
Yard Fencing: Required
Click to View More Images.
Password: Shadow
Photos by: Loueen LaVallee and Jacqueline Mee

Date Adopted:   7/10/2018 at 4 yrs old
Shadow's foster Mom tells us that he's a happy boy who has lots of energy and loves to play and explore new things.  He's happiest when greeting you with his big Jolly ball in his mouth and asking you to throw it…or throw a tennis ball…or throw any other ball in reach.  He will keep going long after you think it's time for a rest!
Shadow's original owner had him for all of his 4 ½ years and loves him very much.  She recognized that her own health issues and work responsibilities were keeping him from getting the exercise and attention he needs, so she reached out to GSRNE to find him the right forever home.
In his foster home, Shadow is living with a senior female GSD who would prefer to be an only dog.  When she barks and growls at him, he turns his head and avoids her as much as possible.  He has been fine with all other dogs he has met and does well on walks.  He barks when a visitor is at the door and then meets the person calmly; he would love it if the visitor would throw the Jolly ball for him.  He does bring the ball back but would prefer to play "keep away;" however, he knows "sit" and will do that so you can take the ball and throw it again.  He does know the basic commands but can be slow to obey….an obedience class would help a lot with this.
If he's alone in the yard, Shadow will find something to do….like dig holes in flower beds and bury tennis balls.  He is also attracted to the Koi pond in his foster home and likes to cool off in the water; he has shown interest in stalking the fish, so his opportunities are limited.  He chases flies and barks at squirrels, but we have not seen how he would be around a cat and suspect he would want to chase it.
Shadow really wants to please his handler and enjoys learning new things.  He's up and awake when you are ready to go in the morning but will sleep in when you feel lazy, too.  He needs daily exercise and mental stimulation and will "wind down" around 9 PM, ready to go to bed or just sit with you and be company.  This good-natured guy is ready to meet an adopter who will appreciate his loyal and affectionate nature.