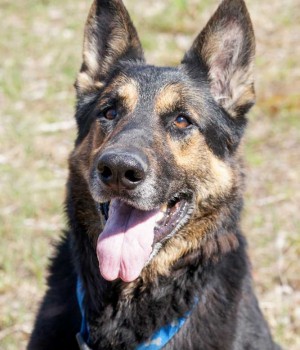 Status: Adopted
Age: aprox 10 years
Size: Medium
Color: Black and Tan
Sex: Female
Activity level: Medium
Good with other dogs: yes
Good with cats: Yes
Foster parents: Ariane F - Debi T
Sponsor Buddies: Liz and Bruce K.
Yard Fencing: Required
Click to View More Images.
Password: Sasha
Photos by: Loueen LaVallee

When we received the call from a shelter about a senior female named Sasha, we were torn between wanting to help her and knowing how hard it is to find an adopter who will give an older dog another chance at life.  When we heard her story, though, we couldn't pass her by, like so many people do at the shelter.
They told us that Sasha had been surrendered by owners who had her for a limited time; she had been left with them by previous owners who had "lied about her age."  They had no vet records for her and did not know what vaccines she had had or not had. Her skin was dry and flaking, and the people at the shelter had given her two skin baths which had her looking and feeling better.  She was friendly with everyone, liked other dogs and ignored the cats in the shelter.  Sasha is now a GSRNE dog, and she endeared herself to her foster parents right off the bat.
After four weeks, we know more about this sweet girl and have also learned that she has a lot of energy and is really playful.  She especially loves to play fetch with her squeaky fur animals in the house and enjoys chase games with the other dogs in the family when out in the fenced yard.  Her favorite thing to do, though, is to hang out with her people.  If allowed, she would be up on the couch to cuddle.  We ask foster homes not to do that, though, because not all adopters will want a dog on the furniture, so we leave that up to the adopters.
Sasha rides well in a car and enjoys those outings as well as going for walks.  She has met and charmed the neighbors and welcomes visitors to the home with an initial bark and then a friendly greeting.  When she met a puppy during a vet visit, she was very kind and gentle with the little guy.  Her foster home already has both a male and a female German Shepherd, and Sasha is ready to find a forever home of her own.  Can you be that special person or family for her?  Please contact us to ask about Sasha.