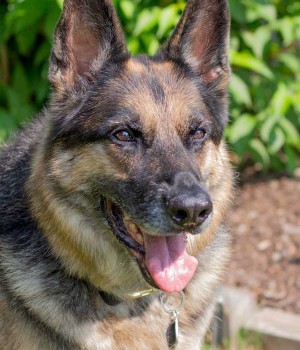 Status: Adopted
Age: 8 yo, (DOB 6/16/15)
Size: Medium to Large
Color: Black and Tan
Sex: Female
Activity level: Medium
Good with other dogs: Yes
Good with cats: Unknown
Foster parents: Barbara E.
Sponsor Buddies:
Yard Fencing: Required
Click to View More Images.
Password: Sable
Photos by: Sara Hincapie

Date Adopted: July 8, 2023
Several months ago we received a call from a family asking for help in rehoming their 8 year old dog, Sable.  They had two toddlers and Sable was becoming reactive to the quick movements of the children or when she felt her space was being invaded by them.  For everyone's safety, she was often separated from the family and they didn't feel she was getting the attention or exercise she needed.  It was their hope that Sable would have a better life in a home without young children.  
Finding a home for a senior dog, even one as spry as 8 year old Sable, can be a challenge for rescues like ours, but we felt compelled to help Sable.  During her evaluation, our evaluator found a nice dog with a pleasant temperament who thoroughly enjoyed meeting and seeing new people.  
As luck would have it, we had just approved a new foster home looking for a mild mannered dog and agreed to become Sable's foster family.  Her new foster mom found that Sable has a good level of energy and she's eager to learn.  Who says you can't teach a dog new tricks?!  Sable's foster mom has been impressed with her calmness in the house.  She has warmly welcomed strangers into the home, happily taking a treat nicely.  She will lean up against her foster mom for pets and is very affectionate to her foster mom's son who also lives in the home.  Sometimes when she sits in a certain way, Sable's resemblance to her foster mom's beloved previous German Shepherd is uncanny.  Her foster family has been so pleased with Sable's transition into their lives that they can no longer imagine their home without her in it.  They've asked to become her forever family and we couldn't be happier, nor could Sable.