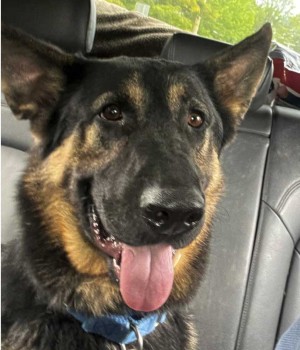 Status: Adopted
Age: 1.5 years (DOB 11/28/2021)
Size: Large
Color: Black and Tan
Sex: Male
Activity level: Medium to High
Good with other dogs: Yes
Good with cats: unknown
Foster parents: Maryann B
Sponsor Buddies:
Yard Fencing: Required
Photos by:

Date Adopted: November 26, 2023
In late summer we received an email from an ACO with whom our rescue has a long-standing relationship looking for help in finding a home for an energetic but very sweet 2 year old male named Roman who had been surrendered to her.  He had been with a family since he was a puppy.  However, they didn't have a German Shepherd Dog experience and soon found that his energy level was too much for their older Golden Retriever and it was making for a very difficult home situation.  Roman was said to be very friendly with people and kids, as well as with other dogs, just had energy to burn like a lot of young males and did not have a lot of training.  Our ACO friend felt he needed a home more familiar with the breed who could give him the guidance and attention he needed.
As luck would have it, we had an approved adopter not only with German Shepherd experience, but also with a 2 year old female GSD of her own with a similar energy level to that of Roman's.  She agreed to foster Roman with the plan to adopt him if the 2 dogs did well together.  The match couldn't have gone better.  We were soon getting pictures of Roman and his new sister Clementine playing with each other in the yard or of them hogging the couch sound asleep next to each other once they'd tired themselves out.  They have been near inseparable since his arrival.  Roman has also bonded with the resident cat and his new mom's adult son.  It's like he's always been there and his family couldn't be more pleased with the result.  We are just so thrilled with this happy ending and very grateful to have played a part in bringing this family together.