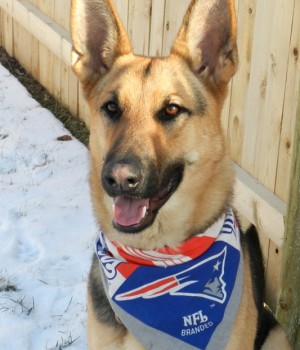 Status: Adopted
Age: DOB 3/24/15
Size: Large
Color: Black and Tan
Sex: Female
Activity level: High
Good with other dogs:
Good with cats:
Foster parents: Marie G.
Sponsor Buddies:
Yard Fencing: Required
Click to View More Images.
Password: Riley
Photos by: Marie G.

Date Adopted: May 13, 2017
Age at adoption: 2 yrs old   DOB: 3/29/2015
Riley is a very sweet and happy girl who loves to play and go for long walks—the more, the better. Her foster Mom says, "She loves to run and run in large circles, and will chase a tennis ball interminably. If it disappears under a snow pack when even 'snow diving' won't surface it, I bring out a basketball and the funny-girl in Riley will do everything in her power to pick it up—makes me smile just to watch her spontaneous happiness." After she's had plenty of exercise, Riley usually retires to her doggie bed and naps. She curls up in a snug ball looking thoroughly adorable. Riley's sweet disposition and playful demeanor make her a wonderful companion for someone seeking an active, loving, young GSD friend.
Riley's original owner was in college when he got her as a puppy. After graduating and starting a job and night school, he had little time for her. She was alone in his apartment for long hours and taken out just for potty breaks. Realizing this situation was untenable, her owner contacted GSRNE.
Riley entered her foster home with several wonderful skills and abilities that her new foster Mom is building upon.  She is a smart, quick learner, house-trained, and already knows many commands including "sit," "stay," "come," "speak," "paw," "lay down," "fetch," "drop it" and "leave it." She also loves the car.
Riley shows no interest in getting up on furniture and is well-behaved loose in the house when her foster humans are with her, whether following them around or playing contentedly with toys by herself. While new to vet visits, she accepts gentle combing and exams, and survived a first ever nail-clipping event. She will soon even have her very own microchip.
While Riley was somewhat "mouthy" at first, she is learning to control this behavior in foster care through well-timed "no mouth" commands. She does get excited at times, though. Her foster Mom says, "She is very friendly with most people, but timid with some. She will go to the end of the leash to greet someone and then run back to my side if she's not sure of them. If she really likes someone, she will rub against them excitedly and start mouthing their hand. They don't seem to mind, but of course I tell her 'no mouth.' With new people, it's still a work in progress." Given her progress already, this behavior should continue to improve with Riley's ongoing training.
Riley is friendly with other dogs, but she can still become overly active wanting to play, jump, and romp with them. By keeping her on-leash when around other dogs—and avoiding unfettered runs in a doggie park—she is learning restraint, while still thoroughly enjoying playing.
Riley does exhibit a few fears her foster Mom is working to extinguish—timidity to verbal reprimands and startling at big sounds. At first she would leave the room, when something in the house scared her, but now she will come when called back and watch from a safe distance.
Riley should thrive in a home with a large yard where she can run and play to her heart's content—to supplement the walks she adores so much. She could flourish in a "one dog" home, or one with a playmate whose temperament matched hers. Riley would probably take advantage of a dog that is too easy-going, and she might avoid one that is too assertive, as she does not like to share her toys. She would ideally live with someone who isn't gone all day—she can tolerate a crate 4-5 hours, but benefits from a human buddy to keep her toy-chewing safe when out and about at home.
If you have the experience to be Riley's strong, loving GSD leader, the willingness to continue her obedience work, and the time to give her the guidance and exercise she needs, please consider meeting her. See why her foster Mom says: "She is really a good girl, so young, so much to give. With her great energy and intelligence, Riley would also likely excel at agility or advanced obedience, if her new owners were so inclined."