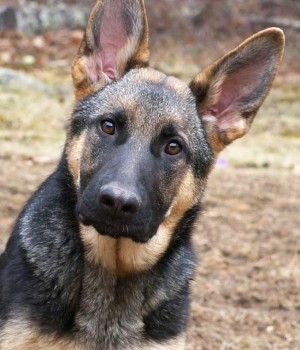 Status: Adopted
Age: 6 mos old DOB (08/30/2017)
Size: Medium to Large
Color: Black and Tan
Sex: Female
Activity level: Medium to High
Good with other dogs: Yes
Good with cats: Unknown
Foster parents: Angelique & Jarrod D
Sponsor Buddies:
Yard Fencing: Required
Click to View More Images.
Password: Riley
Photos by: Loueen LaVallee

Riley came to GSRNE after her first family realized that, given their already very busy lives, caring for a young puppy was too much work. Four-month old Riley, however, immediately found a home with her foster family and her brother, Ramble, another GSRNE rescue.
Riley is energetic, playful, and ready for anything—a game of fetch, a car ride, and even training. She enjoys practicing the cues she has learned at school, and her parents are proud to report that she passed her most recent evaluation. Curious to discover new things, Riley has started to explore the kitchen countertop. Her family is working with her on this, and Riley has started to understand that counter surfing, as well as digging, is not appropriate behavior. During quiet time, Riley is very content, settling down with a toy and eventually dozing off to sleep.
Riley is not shy when it comes to meeting new people. In fact, she loves being the center of attention, and her big ears, still too large for her small size, attract new friends! In addition to puppy school, Riley attends doggy daycare once a week, where she is friendly with both big and small dogs.
Riley quickly became a part of her new family. Her parents cannot imagine giving her up, and they look forward to building a lifelong relationship with her. Even Ramble—though occasionally tormented by his spirited sister—is overjoyed to have found a friend in Riley.