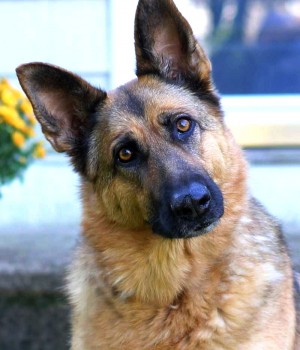 Status: Available
Age: 9 years ( DOB 6/6/2014)
Size: Medium to Large
Color: Black and Tan
Sex: Female
Activity level: Medium to High
Good with other dogs: Some, with proper introduction
Good with cats: Yes
Foster parents: Lynne K
Sponsor Buddies:
Yard Fencing: Required
Click to View More Images.
Password: Rikka
Photos by: Loueen LaVallee

When a dog enters GSRNE, that dog becomes family to us for life.  We celebrate their adoptions, but we are always here if he or she is in need again.  In December 2021, then 7 year old Rikka was happily adopted by a two time previous GSRNE adopter.  She lived happily and was loved fiercely by her new mom for a year and a half.  This past June, just after Rikka's 9th birthday, we were devastated to learn that her mom had passed away and Rikka was in need of a home again.
We had an experienced foster home who was able to take Rikka right away.  Her foster mom has helped Rikka adjust to the loss of her mom and home while helping her shed some weight she gained while living in the lap of luxury.  
Rikka loves being outdoors and taking walks, especially if there is water involved!  She loves her kiddie pool as well as taking a splashy swim at the local river.  She is incredibly smart, you can definitely see those shepherd wheels turning with her trademark head tilt.  She is well trained and not destructive in the house.  She did live with a cat many years ago successfully and may be able to do so again if care is taken with proper introductions.  Rikka prefers to be an only dog.  
Rikka bonds tightly to her people.  Because of this, she can be protective and will need an experienced adopter who understands how to handle shepherds with this personality.  She does NOT show any reactivity towards her own family.  She also does have some arthritis common with age and allergies that have been well managed with medications.  
Rikka has many fans within GSRNE who have seen the awesome girl she is.  We are truly hoping to find the right person or family willing to open their hearts up to a senior dog with a few quirks that will bond to you forever and make you her best friend.