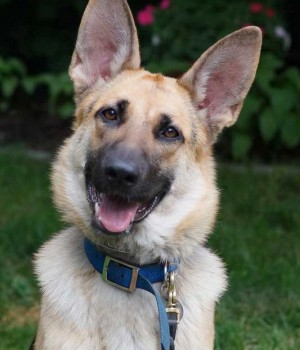 Status: Adopted
Age: 1.5 years (DOB 8-11-17)
Size: Medium - 55 lbs.
Color: Black and Tan
Sex: Female
Activity level: High
Good with other dogs: yes
Good with cats: Unknown
Foster parents: Jeff S. and Whitney M.
Sponsor Buddies:
Yard Fencing: Required
Click to View More Images.
Password: Promise
Photos by: Loueen LaVallee

Promise is a sweet young dog with a lot of potential.  She's enthusiastic, food-motivated, enjoys training, very playful and has a sense of humor; she has a lot of energy and thrives on exercise.  She is, also, a work in progress, because she still shows some reactivity to visitors in the home and care has to be taken when introducing her.
Promise came into GSRNE in February of last year and was ten months old when we met her; she was uncomfortable in new situations and when meeting a new person.  Her original owner told us that he never had visitors, so Promise did not get to interact with people outside the family.  We knew it would be a challenge to make up for the lack of socialization, but we felt that this young female deserved to have a chance.
We wanted to expose her to as many people, places and things as possible, and with her foster Dad, she goes for long walks that expose her to lots of distractions.  At first, she would have an "Oh No!" moment when seeing a black plastic bag on the sidewalk, her own reflection in the side of a car, or a loud truck going by.  Now, though, she can go for walks on Boston Common, sit next to a bench in the park and calmly watch joggers, walker and cyclists go by and take treats politely from strangers when her foster Dad tells her to "say hello."  At the training center, she has learned to "stay" on a dog bed as people and other dogs move around her.  She has also gone home with trainers and adjusted well to their families and daily routines.  She learns quickly, doesn't pull on leash, ignores joggers, skateboarders, cyclists and pays only passing interest to other dogs. But she does have some canine buddies, a Dutch Shepherd and a Malinois, and loves roughhousing with them.
We feel that Promise is ready to move on to her forever home with an experienced German Shepherd person….someone who is active and will enjoy long walks, continuing with her training and daily obedience routines, maybe have a treadmill to help her work off some of that nervous energy.