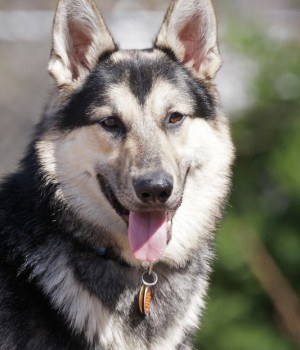 Status: Adopted
Age: 1 yr
Size: Med
Color: Black and Tan
Sex: Male
Activity level: high
Good with other dogs: yes
Good with cats:
Foster parents: Bernie D.
Sponsor Buddies:
Yard Fencing: Required
Click to View More Images.
Password: Pal
Photos by: Loueen LaVallee

May 23, 2015
Pal has been described as "a happy, friendly, tail-wagging pup; he loves attention and seeks it out."  He loves to throw his Jolly ball or tennis ball and run after it by himself if no one is free to throw a ball for him.  He's delighted to have someone out in the yard with him, even if his person is cutting the grass or weeding the garden.
In his foster home, Pal has made friends with the resident dog, a mature female German Shepherd named Indy, and she is being a good role model for him.  When the family is at work, Pal is in a crate, and he's been content to just hang out and wait for someone to come home so he and Indy can have their play time.
In his original home, Pal didn't get much training or guidance, so he'll be going to obedience class before being adopted.  He will push the boundaries and needs someone who is experienced with German Shepherds, but he's smart, energetic, food-motivated and is learning quickly.  He enjoys meeting new people but is a little reserved at first but does well after a gradual introduction; having a few treats on hand usually helps him feel comfortable.
Pal hasn't met a cat, that we know of, but he really likes to chase rabbits out of the backyard.  He also chews up his stuffed toys and does better with the solid ones that can't be pulled apart.  One of his favorite things is to go for a ride in the car, and he's very well-behaved while riding; he and Indy jump right in and happily look out the window.
The ideal adopter for Pal will be experienced with German Shepherds, interested in working on obedience training and in giving this youngster supervision and guidance.  Having another dog in the home who could be a good role model and canine playmate would be a plus!