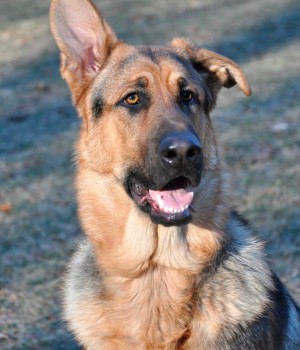 Status: Adopted
Age: 1 yr. (DOB Dec. 2016)
Size: Large
Color: Black and Tan
Sex: Male
Activity level: Medium to High
Good with other dogs: Yes
Good with cats: Yes
Foster parents: Nancy C.
Sponsor Buddies:
Yard Fencing: Required
Click to View More Images.
Password: Oliver
Photos by: Erin Rizzo

Oliver likes to play!  He is excited to engage in any type of play or activity, either with his people or foster canine buddies.  He easily adapts to new situations, is eager to please and is always up for the next new adventure.  At one year of age, he's still a big puppy.
He loves to be with his people and is happiest when beside you or riding in the car to help you run errands.  He seems to be unaware of his size and tries to crawl into his foster Mom's lap and snuggle at times.  He's comfortable meeting visitors, both male and female, and he likes the energy level of the children playing in the neighborhood.  Because he can be mouthy when excited, he would do best with children nine and older who know how to give him some leadership and guidance.
Oliver is a good walker and knows how to heel; he will often look up to check his body position relative to you, and long walks and hikes are activities he really enjoys.  He gets along well with the female dogs in his foster home, but his energy level can be too much for the mature male in the family.  He also lives with young adult cats and largely respects them; however, he does follow them around with some enthusiasm, which could be annoying to older or shy/fearful cats.
It was hard for Oliver's original owner to give him up, but her mature male did not accept him, and life was becoming too difficult for the family.  He is looking for an active home with people who will engage him and make him part of their life.  He would not do well alone all day, so someone who works from home or could provide him with doggie daycare of a pet walker would be ideal.  Daily walks and play times with his special people, and then hanging out and being close in the evenings would be a good life for this friendly young boy.