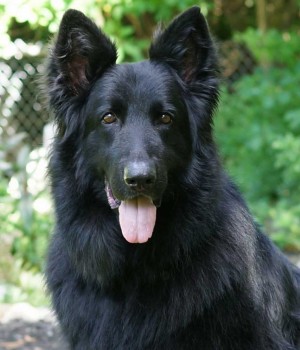 Status: Adopted
Age: 6 years est. DOB 06/18/2016
Size: Large
Color: Black
Sex: Male
Activity level: Medium to High
Good with other dogs: Yes, with proper introduction
Good with cats: unknown
Foster parents: Diana T
Sponsor Buddies:
Yard Fencing: Required
Click to View More Images.
Password: Nox
Photos by: Loueen LaVallee

Date Adopted: September 17, 2022
In July we heard about a neglected dog case.  A concerned citizen had observed Nox sitting in a car for 9 hours and called the ACO.  He was filthy and had no up to date vetting.  Luckily for Nox, his angel was just around the corner and a woman who'd previously known Nox was able to take him in.  She got his long matted and tangled fur clean, up dated his vetting, and gave him the love he so desperately needed.  Unfortunately, she was unable to keep him due to her housing situation so called us.  Despite all he'd been through, she told us what a kind and affectionate boy he is.  Our evaluators were so impressed by Nox's sweet demeanor and friendliness for people that we knew we had to help.
Nox's luck had certainly turned for the better when one of our experienced foster homes was able to take him on short notice.  She told us that Nox is a fast learner, curious about the world around him.  He runs to the fence to watch the neighborhood goings on, but doesn't bark or get overly excited.  He's clean, not destructive, and generally very quiet.  He enjoys playing with squeaky toys and balls and has become friendly with the senior female GSD in the home.  He's been happy to interact with the people he has met inside the home and completely charmed the photographer during his photo shoot.  
This wonderful boy is now ready to find his forever home and we can't wait to see what his now promising future holds!