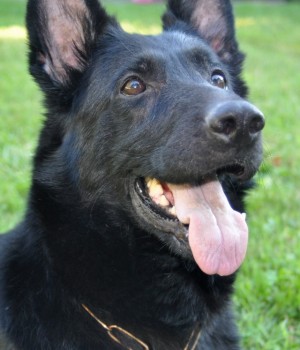 Status: Adopted
Age: 4 years
Size: medium
Color: black
Sex: female
Activity level: medium
Good with other dogs: yes
Good with cats: unknown
Foster parents: Mark R.
Sponsor Buddies: Matt M. Buddy; Sara D. Buddy
Yard Fencing: Required
Click to View More Images.
Password: Nikki
Photos by:

Nikki is a compact, active 4-year-old female who came into our rescue from an owner-surrender situation.  She was suffering from a flea allergy and anaplasmosis, had fur missing and was not feeling or looking very well at all.  Fortunately, that's all behind her now.
In foster care, Nikki has been getting good food, regular baths, medication and the right structure and training.  Her fur is growing in again, and she's showing more and more of her happy smile and active personality.  She loves to learn and does need some daily activity and mental stimulation; her adopter will have to LOVE to play ball with her!
In addition to her tennis balls, Nikki enjoys playing with squeaky and fuzzy toys; her favorite is a centipede that squeaks in each section.  She's living with a male GSD in her foster home and a skilled GSD-savvy person.  He has helped her learn some manners, and she handles her crate time well when he's working.
Nikki really would like an active family who will provide her with lots of interaction and mental stimulation.  She is a happy, loving dog who wants to learn how to please you, go with you, be with you and learn about your world.  If you know the breed well, have experience and are committed to going to dog training, Nikki could be the dog for you!