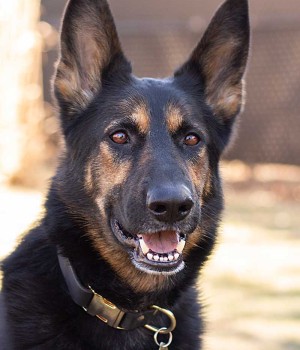 Status: Adopted
Age: 4years (DOB 1/11/19)
Size: Medium to Large
Color: Black and Tan
Sex: Female
Activity level: Medium to High
Good with other dogs: If properly introduced
Good with cats: lived with a cat
Foster parents: Kevin S.
Sponsor Buddies:
Yard Fencing: Required
Click to View More Images.
Password: Myla
Photos by: Sara Hincapie

DATE ADOPTED: August 20, 2023
Myla is a beautiful four-year-old female GSD who likes being close to her people and going for walks. Her favorite playtime item is a Frisbee! She has done well with her training and responds nicely to minor leash or verbal corrections. She does have some anxiety, especially to the sound of diesel engines, and her foster parents have been working on desensitizing her. They live near a school, and Myla is getting used to the sounds of busses arriving and departing.
Myla is smart and learns quickly, but she needs time to build up her confidence. Her owners said she started showing the anxiety after her tail was caught in a car door when she was one year old. She is living with a male GSD in her foster home and is doing well with him.
The previous owner had her since puppyhood, and all was well until the fiance' moved in with his female Pitbull who is seven years old; fights were happening, and he was hurt breaking them up. Before that, Myla would get along well with a relative's two male dogs, a Pitbull and a Catahoula Hound. We've found Myla to be sweet and loving in her foster home, a great companion and well worth the time and effort to help her build some confidence!