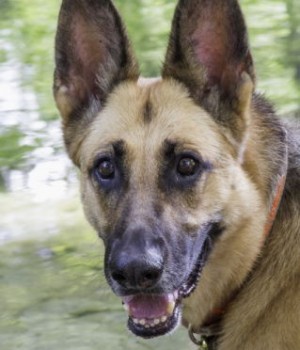 Status: Adopted
Age: 8 YRS OLD (9/1/2007)
Size: Large
Color: Black and Tan
Sex: Female
Activity level: Medium
Good with other dogs: Yes
Good with cats: Yes
Foster parents: Bill M
Sponsor Buddies:
Yard Fencing: Required
Click to View More Images.
Password: Miyah
Photos by: Sue Darlington

Adopted:  Oct 16, 2016 at age 9
When Miyah was 6 years old, her family got a Golden Retriever puppy and decided they didn't want Miyah any longer….they began asking their vet to euthanize her.  This went on for two years, with the vet refusing to euthanize a healthy, friendly dog; thank goodness, a family member called GSRNE, after the vet suggested it.
Miyah is being fostered by one of our new foster homes, and her foster Dad's name is Bill; he has not had a dog in a number of years, but his adult daughter has a young GSD and visits often.  Bill has a large, fenced-in backyard and lives near a recreational area that has a stream for boating and trails for walking.  Within a few days of Miyah's move to his home, we were hearing how much she loves to play with a Jolly Ball, wade and swim in the stream, ride in his motorboat and just do whatever he was doing.
We were not surprised to hear, after just two weeks, that Bill wanted to apply to be Miyah's adopter; she was even getting along with his cat.  The older dogs in foster care often wait for months and months before we find an adopter who is willing to give them a forever home, so we were delighted to hear that Miyah had already found hers!  She's a beautiful, loving senior girl who deserves all the love and appreciation she's getting now.