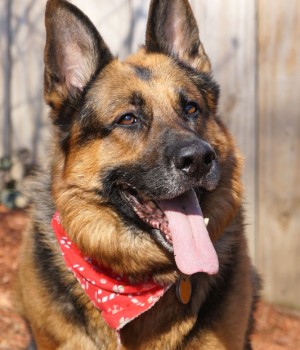 Status: Adopted
Age: 7 years
Size: Large
Color: Black and Tan
Sex: Male
Activity level: Medium to High
Good with other dogs: If properly introduced
Good with cats:
Foster parents: Ana D.
Sponsor Buddies:
Yard Fencing: Required
Click to View More Images.
Password: Maximus
Photos by: Loueen LaVallee

Maximus lost his home due to a divorce, and his owner could not find an apartment to rent where a large dog would be welcome.  We were contacted two weeks before the home had to be vacated and were fortunate that we had a foster home available.
It was a big change for Max, and his foster Mom told us that he was very anxious and barked a lot at first.  She has a cozy area gated off and a large crate where Max could go to calm down; he was fed in the crate, and it became his den.  When his foster Mom went to work, Max would stay in his crate until she returned.  There are three small dogs in the home, and Max would bark at them at first if they got close to the gate to his room.  After a few days, though, the dogs were becoming more comfortable sharing the home.  They were loose together, but the small dogs didn't really want to play.
Maximus is friendly when he meets people and really wants to please his special person.  He will give out a bark when he wants your attention or is ready to play and might keep it up until told "quiet!".  He especially loves his Jolly ball and will play fetch in the yard again and again.  He comes when he's called, knows Sit, Give paw, Down and Stay and has learned hand signals. He gets very excited when it's time for a walk and might pull for the first 10 minutes before settling into a nice pace at your left side and about a foot in front of you.  After some exercise, he settles down in the home to just relax and hang out.
Max is ready for a forever home of his own; he's a big boy, friendly and respectful.  If you enjoy teaching a smart dog new tricks and are committed to daily play sessions and training exercises, Maximus could be the devoted companion for you!