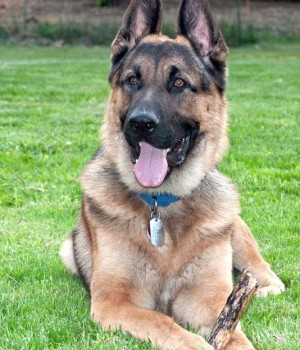 Status: Adopted
Age: 1 yr (DOB 12/4/2021)
Size: Large
Color: Black and Tan
Sex: Male
Activity level: Medium to High
Good with other dogs: If properly introduced
Good with cats: unknown
Foster parents: Martin B
Sponsor Buddies:
Yard Fencing: Required
Click to View More Images.
Password: Max
Photos by: Caitie C

Date Adopted: May 6, 2023
Max is a friendly and boisterous young male who likes to give drive by kisses to his dad and play whenever anyone is up for a game whether it be with people or other dogs.
Originally owned by an older woman who was moving to senior living, she was unable to take Max with her and told us that she did not feel that she had the energy required to give Max what he needed for his health and happiness.  He was loved and she knew the best thing she could do for him was find a more active home for him so she called us.  Max's owner told us he'd been well socialized and he loved everyone including her grandson.  He'd lived well with a small dog, but that dog didn't always appreciate Max's zest for life.  Our evaluators found Max to be happy, playful, and quite large for his age at just over 100 lbs.  He didn't have a lot of training and his size could easily overpower someone not expecting an exuberant hello.  Despite needing work on some of his manners, they knew right away he was a great dog with lots of potential.
We did not have any foster homes available, but we did have an approved adopter waiting for a dog like Max who understood the type of training the big fluffy guy would need.  We asked if he'd be interested in fostering Max with the option to adopt him if it worked out well and we were grateful that he said yes.  It was a match made in Heaven for these two as they clicked right away.  Max's new dad has told us that Max is doing great and responding really well to his training.  He is very sweet with everyone and is playing nicely with a female lab that visits often.  Max's dad even made him a beautiful dog house for Max to enjoy while they are working or playing outside together.  We can't wait to hear what the future holds for these two and look forward to hearing about all of their adventures.