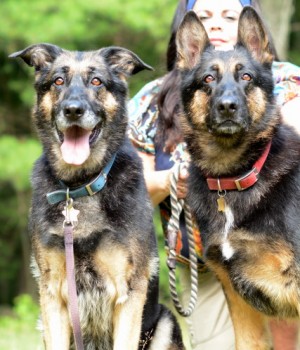 Status: Adopted
Age: Maggie 11, Jolene 7
Size: Maggie 76 lbs, Jolene 79 lbs
Color: Black and Tan
Sex: both female
Activity level: Medium
Good with other dogs: Some
Good with cats: Unknown
Foster parents: Cindy T.
Sponsor Buddies: Jim N.
Yard Fencing: Required
Photos by: Donna J

Meet Maggie and Jolene! They have been together all of their lives so are looking for a home where we can place both of these wonderful girls.
They came to GSRNE after their owner died. He was the caretaker for a tire warehouse/tow yard. During the day Maggie and Jolene lived in a shack on the fenced lot and at night they would roam the grounds to discourage intruders. They were not "watch dogs" and both are very sweet. After their owner died, the owner of the business took care of Maggie and Jolene. Because they are so gentle, he reached out to GSRNE to help find them a real home where they could enjoy the rest of their lives with a loving family. To help prepare them for the transition, he kept the dogs in his office so that they could meet lots of people – and they loved it!  Both would roll over for belly rubs when visitors arrived. We are told that Maggie, age 11, is likely the mother of Jolene, age 7.
Maggie and Jolene have done a great job of learning how to live in a regular home. They even had to learn how to climb stairs and are doing a good job. Jolene is having a little more trouble due to some arthritis in one of her hind legs. They are housebroken and eat on a regular schedule.  These are things that most dog owners take for granted but for these two girls, it was all new. Maggie is very smart. She even tried to make herself invisible by getting on the couch and being perfectly still hoping her foster mom wouldn't notice! Needless to say, her trick didn't work and she was reminded that the couch wasn't hers but we give her credit for trying.
Their foster mom has been walking them on leash – another new experience for them.  She tells us that if she is teaching one to heel, the other tries it too and that they are fun to watch and to be with. They are grown up girls learning about the life in a home for the first time. They have learned to sit and wait at the door to go out and they do well with visitors. There is still much for them to experience and to learn. Because they depend upon each other, we feel that they need to stay together.
Maggie and Jolene are cuddly and affectionate girls. If you are willing to share your home and your heart with two lovely, adult German Shepherds who have much to learn and so much more to give, Maggie and Jolene could be the perfect match for you.