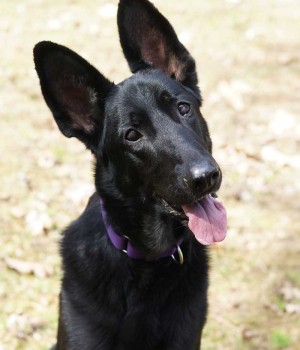 Status: Adopted
Age: 4 years (5/28/17)
Size: Medium to Large
Color: bi-color
Sex: Female
Activity level: Low to medium
Good with other dogs: Yes, with proper introduction
Good with cats: Unknown
Foster parents: Cindy G
Sponsor Buddies:
Yard Fencing: Required
Click to View More Images.
Password: Lexi
Photos by: Loueen LaVallee

Adopted: May 28, 2022
Lexi's foster Mom says she is a joy to have in the home. Lexi is a very affectionate dog that's easy to have around the house. She is well behaved and comfortable when left alone in the home for a few hours, and welcomes you back home with a happy wagging tail. She's a sweet girl who likes to be active but easily settles down for quiet time. Lexi will delicately nose through her box of toys to find just the right one, then will prance around with the toy trying to entice you to chase her.
Lexi will thrive in a home that gives her ample exercise, and is careful about maintaining her health. Lexi has a condition called pannus that was not treated regularly and resulted in her vision being impaired. This causes her to be uncertain about stairs, but she does go up and down with her foster Mom. As you can see in the video on her page, Lexi can run and play like any other dog; now that she's getting her eye drops daily, she should maintain the vision she currently has.
With her sweet nature and playful personality Lexi will make someone a very nice companion, and perfect family dog!