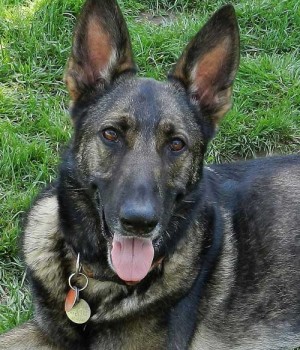 Status: Adopted
Age: 5 yr (DOB 4/1/18 )
Size: Medium to Large
Color: Sable
Sex: Female
Activity level: Medium
Good with other dogs: yes
Good with cats: Unknown
Foster parents: Laurie W
Sponsor Buddies:
Yard Fencing: Required
Click to View More Images.
Password: Lady
Photos by: Marie G.

Date Adopted: May 25,2023
Beautiful Lady certainly lives up to her regal name, but don't let her age fool you, this 5-year-old has enough energy to compete with a 2-year-old.
Lady was a well-loved dog whose owner became ill and could no longer care for her.  She wanted to find a new loving home for lady and, after learning more about our organization, thought that we'd be a good fit to help her find that home.  We are thankful she called.  Our evaluator found a playful, happy girl who could be a little over the top in the excitability department, but made up for it in her outright friendliness and desire to be loved.
We needed to find the right place to put her, a family that could keep up with this girl by giving her exercise and playtime as well as a refresher course on a few of her manners.  We had a prior adopter who we thought might be willing to foster and possibly foster to adopt if she felt ready after the passing of her GSRNE dog.  When she heard Lady's story, she couldn't say no.
Not long after Lady's arrival, it was clear she wasn't leaving.  Her new mom was thrilled that Lady just fit right in.  She was so affectionate and jumped right up into the spot her new mom's former dog used to sleep.  Lady loves to be brushed and get attention.  She's getting along with a best friend's dog who also lives in the home and the two like playing with each other.  We love a happy ending, congratulations to all.