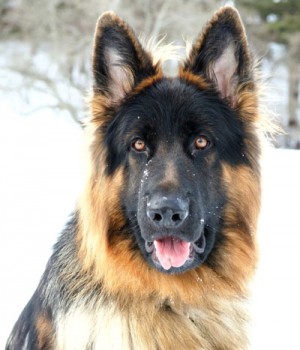 Status: Adopted
Age: DOB 10/29/2015
Size: Large
Color: Blk and Red long coat
Sex: Male
Activity level: Medium to High
Good with other dogs: Some if properly introduced
Good with cats: Unknown
Foster parents: Lauralee D
Sponsor Buddies:
Yard Fencing: Required
Click to View More Images.
Password: Kingston
Photos by: Donna J

Date Adopted: March 26, 2017
Age at adoption: 1 yr 5 months   DOB 10/29/15
If we had to describe this handsome boy with one word, it would be "playful." His foster Mom says that he loves his treat-dispensing toy and will bounce it, pounce on it and carry it around with him.  Soft toys don't last long with him, though, because he uses his paws like hands to hold on while pulling them apart with his teeth….stuffing goes everywhere.
Kingston is still puppy-like in some ways, even though he's almost a year and a half old.  He gets mouthy and will jump up when excited, and he needs slow introductions to a new person visiting the home.  His bark is intimidating, and he's being taught to wait for the person to offer a treat before going up to sniff. After the introduction, he'll pick up a toy to initiate some play time.
When out for a walk, he's more comfortable meeting people than he is in the home.  He's not as comfortable when passing another dog on leash, but he's learning to sit and wait for that dog and person to pass by.  In his foster home, Kingston lives with a female Chihuahua and is learning her limits when trying to play with a big guy like him.  He does have a playmate more his size, named Cooper, and they play hard together….running and chase games, tugging on opposite ends of a rope toy, wrestling.
Kingston is a work in progress; he needs ongoing training, but he's smart and likes to please.  He is quick to bark at outside noises, other dogs being walked past the house and visitors.  His first owners had two young children and said he adored them; but he was more dog than they could handle.  A trainer who had worked with him said he needed time and a lot of guidance.
In foster care with GSRNE, Kingston first stayed with our Training Director to give him some time with proper guidance.  After moving to his foster home, he continued seeing our trainer and received consistent obedience work and socialization from his foster Mom over several months.  Sometimes the dog who needs the most work and help becomes the dog that the foster home can't bear to say good-bye to.  This is the case for Kingston, who has found his forever home.