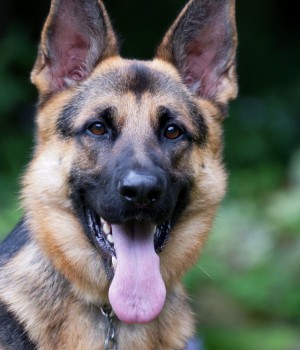 Status: Adopted
Age: 1.5 years
Size: large
Color: black and tan
Sex: Female
Activity level: med/high
Good with other dogs: yes
Good with cats: yes, cats that are dog savy
Foster parents: Laurie R.
Sponsor Buddies:
Yard Fencing: Required
Click to View More Images.
Password: Kayla
Photos by: Loueen LaVallee

Adopted: Nov. 1, 2015 at age 1 yr 8 months (DOB 2/1/14)
Life was pretty good for this young female for her first 15 months; her owner spent time with her and arranged for sessions at doggie day care while he was at work.  She played with the other dogs there and was getting some obedience training.  When her owner died suddenly, and no one in the family could take Kayla, she faced an uncertain future.
Fortunately, the owner of her daycare facility notified GSRNE and took care of her until a foster home could be found.  Kayla has handled all the changes without losing her open and trusting personality and is now ready to meet a potential adopter.
Her foster Mom tells us that Kayla "is a total love, is very smart and has lots of energy."  She looks for things to play with and will carry one ball in her mouth while using her feet to shove a second ball away and then chase after it; she also has fun with fuzzy toys.
Kayla can be mouthy when she first meets someone but will stop when corrected.  She's enthusiastic about new adventures and would like to charge out the door as soon as it's opened, so she's learning to sit and "wait" until invited to go through.  We've also learned that she is very sensitive to loud noises and will look for a place to hide, so she needs someone who is understanding and patient.
There are two kittens, under one year old, in Kayla's foster home, and they fascinate her.  She wants to follow them everywhere and carries toys to get them to play, and the kittens are a bit wary of her.  She should do well with a confident and dog-savvy cat, though.
Kayla is ready to be part of a loving and active family.  If you are committed to going to obedience training classes with her and have some experience with an active and outgoing German Shepherd, this might be the girl for you!