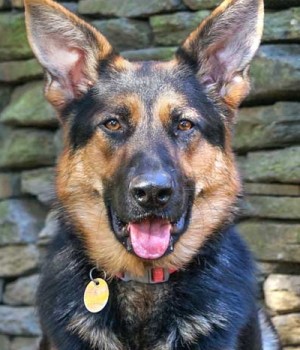 Status: Adopted
Age: 2 years (12/03/2020)
Size: Medium to Large
Color: Black & Tan
Sex: Female
Activity level: Medium to High
Good with other dogs: Yes
Good with cats: Unknown
Foster parents: Jeff S.
Sponsor Buddies:
Yard Fencing: Required
Click to View More Images.
Password: Katie
Photos by: Loueen LaVallee

Katie is a beautiful 2 year old medium size female weighing about 55 pounds.  She's super sweet and loves to train.  Loves, loves, loves to play ball or wrestle with the resident German Shepherd in her foster home.  They can play all day.  She has a ton of obedience training; knows sit, down, go to bed, go to crate, and walks well on a leash.  Katie has a good recall.  Her previous owner was a elderly woman who had to surrender Katie as she is moving to a senior living community.  Katie was in a household with an older Labradoodle whose energy level was deemed more appropriate for the new living space.  That's not to say Katie has a high exercise requirement, just that of an average young shepherd.
Katie would do well in a home with a confident male dog of similar size who enjoys playing, or as an only dog with a active household who could be patient as she continues to increase her level of socialization.  She walks well on a leash but can get focused on new noises and sights. But as she gets gradually exposed to new places, the confidence and ease she displays in the backyard begins to emerge in the front yard and beyond.
She's been exposed to a number of dogs at the foster owner's house. Katie does  extremely well when the number of loose dogs is small (1 or 2 other dogs), chasing and wrestling in fun.  But she tends to wander away when the number of dogs gets too big, so maybe off leash dog parks are probably not the best place for her.  She's a great dog who needs an owner willing to continue the process of introducing her to the world.