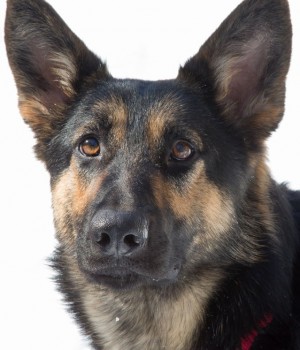 Status: Adopted
Age: aprox. 1.5 years
Size: med
Color: black and tan
Sex: female
Activity level: high
Good with other dogs: Yes
Good with cats:
Foster parents: Lacie B.
Sponsor Buddies:
Yard Fencing: Required
Photos by: Sue Darlington

This beautiful girl was a stray and caught by an Animal Control Officer in a Have-a-Heart trap. She was very timid and hand-shy in the shelter, but she bonded with the person who worked with her most. She's about 1 to 1.5 years old, 55 pounds, and really came out of her shell in her foster home.
Karma is a super dog! From the very start she has been a quiet girl and very gentle taking treats out of a hand. After two weeks in her foster home, this skittish and apprehensive girl showed us how sweet, smart, and loving she really is. She's very relaxed in the house but her true personality shines when you get her outside as she runs and plays enthusiastically with her Kong or a ball. She loves to pounce in the snow, stick her head in a snow pile, and run. As a younger dog, her forever home will have the advantage of having a beautiful, house broken girl who chews on her bones and not the furniture, but who is still discovering and enjoying new things every day. She loves having lots of people and activity around her. She's incredibly loyal and will follow you everywhere. A gentle "no" is all it takes to reprimand her as she's very sensitive to a person's mood and tone of voice. Training her is easy since she is very anxious to please and she already knows most of the basic commands. She did a great job at the vet and enjoys playing with other dogs.
Since she's only around 55 pounds, she fits well into a lot of places, such as the back seat of a car. Even in the car is she is very well behaved. Her crate is still a place she will go to and relax in all on her own day or night, so you know she likes it. At night, she was put in her crate with the door closed which is in the bedroom, but lately the crate door has been left open and the bedroom door closed and she does just fine. She does not bark often but will bark at strange, loud noises, such as a knock on the door. If she thinks there are intruders beyond the fence when she's outside she'll bark to let you know there is activity nearby. She is big in personality and a beautiful German Shepherd, inside and out. She deserves a loving home with lots of activity to keep her busy and lots of people to love her.
If you are looking for a young, enthusiastic GSD who will be your forever friend, Karma may be the girl for you.