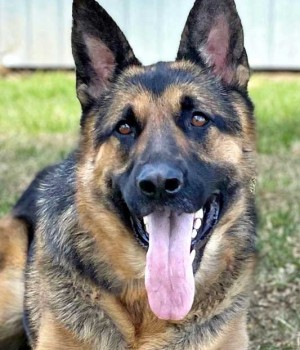 Status: Adopted
Age: 2 years (DOB 4/28/2019)
Size: Large
Color: Black & Tan
Sex: Female
Activity level: High
Good with other dogs: Some if properly introduced
Good with cats: no
Foster parents: Jim A
Sponsor Buddies:
Yard Fencing: Required
Click to View More Images.
Password: Kali
Photos by: Jim A

Date Adopted: June 11, 2021
MEET KALI!
Kali is a 2 year-old black and tan German Shepherd. She was brought to us because she needed more space to run and play than her previous family had to offer. She weighs in at a large 96 pounds, so she is not a small girl, and she is an active, healthy girl. She loves hiking, car rides and especially loves anytime that she can be out playing ball and running around her foster family's large yard.
She is good on leash, potty-trained, and knows her basic commands, as well as some more advanced ones. For example, she "successfully completes a down stay at 225' and comes when called. She is trained to sit and wait before eating, taking treats and exiting a door," according to her foster father. She is learning and now understands the commands "leave it" and "drop it." She is crate-trained and goes in the crate throughout the day for a toy or treat but does not spend an extensive amount of time in it.
Kali loves life and her enthusiasm for play is infectious. She is happy to simply spend her days running around and chasing a ball. She is fun to watch, as she tries to catch bugs out in the yard, and nudges you with her ball to get you to play when she is done with her bug hunting. She has a high toy drive, carrying her toys around inside the house, as well as playing with them outside.  She can keep you and herself busy and entertained for hours.
When Kali meets new people, she will bark, but then brings them a ball when she decides they are safe.  After that, she is very social and known people will always receive a ball when she sees them.  The home is set off the road and Kali enjoys the plentiful land surrounding the house.  She is vocal with strangers and wildlife, but is friendly with a nearby neighbor.
She has been working on her socialization and has gained confidence when around people out in public, such as at the pet store. Her barking has also decreased significantly with her foster home. She has not lived with cats before, so we cannot say how she would do with them. She has seen children out in public and is friendly with her foster Dad's nieces.
She is being fostered by a trainer who describes her as a "smart, very-energetic, happy well-behaved dog with high energy" that "wants to please her handler and…yearns for a family of her own. If you are committed to giving Kali the attention and time, and can handle a large, active pup, this is the dog for you!"