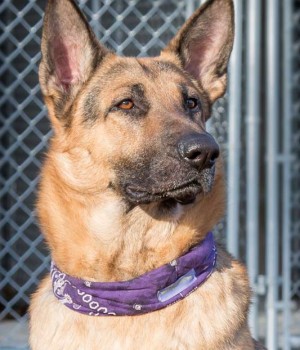 Status: Adopted
Age: 2yrs 8/1/2014
Size: Large
Color: Black and Tan
Sex: Male
Activity level: Medium to High
Good with other dogs: Yes
Good with cats: high prey drive
Foster parents: Jim M.
Sponsor Buddies:
Yard Fencing: Required
Click to View More Images.
Password: Jay
Photos by: Sue Darlington

Date Adopted: Aug 27, 2017
Age at adoption: 3 yrs (DOB 8/1/14)
Jay will be three years old in August, and his foster Dad tells us that he still has an
active puppy-like attitude towards life. He shares his foster home with the
resident female GSD, Jasmine; and he'll cut her off in order to run and get some
attention. He does like attention and becomes very devoted to his family; his
foster Dad has children who visit regularly, and Jay has become somewhat
protective of them.
When it comes to toys, Jay does not have a lot of interest in playing with them.
He will show some interest in a toy that bounces, but he's not very interested in
fetching a ball and bringing it back. He does like to dig holes in the yard and has to
be distracted from doing that. Another thing he really likes is going for walks; he
and his foster Dad go for 3-4 miles a day. Jay doesn't like to be surprised during
their walks, though, and he has been reactive when a bike came past them from
behind and when a jogger came right at them. His adopter will have to continue
working with him to make him more comfortable in all situations.
Jay was born and grew up in the Dominican Republic and came here with his
owner when she moved in order to live with her daughter. Unfortunately, the
landlord would not allow a German Shepherd to live in the building, and the
owner relinquished Jay to an animal shelter. Fortunately for Jay, the shelter
contacted GSRNE, and we were able to move him to a foster home.
When his foster Dad is at work, he stays calmly in his crate and has no problem
going in there when it's time. His foster Dad says he likes his crate. Jay is not
bothered by loud noises and did very well on the 4
th
of July, ignoring the fireworks
that could be heard nearby. One thing we've found that he doesn't like is water,
but he does enjoy being brushed.
If you're looking for an active boy and will enjoy building on the training he has
already had, please ask us about meeting Jay!