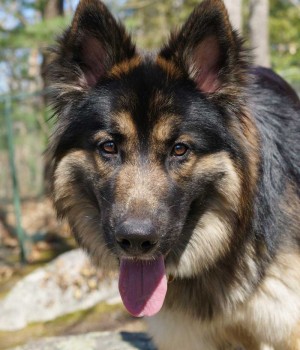 Status: Adopted
Age: 1 year (03/01/22) est
Size: Medium to Large
Color: Black and Tan
Sex: Male
Activity level: Medium to High
Good with other dogs: yes
Good with cats: Unknown
Foster parents: Maria Z & Michael G
Sponsor Buddies:
Yard Fencing: Required
Click to View More Images.
Password: Jax
Photos by: Loueen LaVallee

Date Adopted: April 12, 2023
We first heard about Jax 2 months ago when we were contacted by a shelter we'd worked with before.  They told us he'd been surrendered by a single mother who was unable to handle the energetic one year old dog with several young children.  We learned that Jax was a very friendly dog, a little skittish at first due to lack of socialization, but warmed up quickly.  The shelter staff really liked him, but they knew he needed a German Shepherd savvy adopter as Jax didn't have any training and needed to learn self control.  His favorite mode of greeting someone was excitedly jumping up on them.  The staff felt he'd do best starting his new life in a German Shepherd Rescue environment.  Our evaluator who met him felt the same way.
Since German Shepherds do not do well in the shelter environment, we knew we needed to move him as soon as possible.  We had an adopter with German Shepherd experience who understood the importance of structure, leadership, socialization, and training and they agreed to bring Jax into their home.  They found him to be friendly right away, but had a lot of puppyish behaviors to overcome including jumping, heal nipping (a common GSD trait for moving sheep), taking or eating food quickly and hard mouthed, and just in need of simple manners.  They started basic training and Jax showed improvement rapidly.  They are continuing to slowly start socializing him as well, making sure he has plenty of time to adjust to his new home.  With more exercise and training opportunities, Jax will now sleep quietly at his mom's feet during a zoom meeting or chill out in his crate during downtime.  
His new family just adores him and are thrilled to make him their newest member.  His mom says, "He is a really happy and sweet dog-don't know how someone could give him up but glad they did".  Congratulations all!