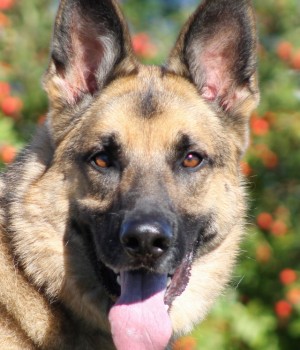 Status: Adopted
Age: Date of Birth: 5/26/2012
Size: Large
Color: Tan sable
Sex: Female
Activity level: Medium to high
Good with other dogs: OK with some after slow introduction
Good with cats: No
Foster parents: Chris and Tomas H.
Sponsor Buddies: Jim N.
Yard Fencing: Required
Click to View More Images.
Password: Jasmine
Photos by: Chris H.

If you love to walk daily, Jasmine is the girl for you! She led a sheltered life in her previous home, and is enjoying exploring local trails with her foster family. She's hoping her forever home will love to walk as much as she does, as she is a young dog with a decent amount of energy and needs the exercise. She was overweight when we got her, but has slimmed down and wants to keep her trim new waist. Don't we all!
Though she adores her walks, Jasmine tends to be unsure in new situations and when meeting new people.  If she feels safe with her own people, she will explore whatever is making her uneasy and will then move on.  We saw this often when she first came into foster care, but she has gotten much more confident already. She will need to have an adopter willing to work on building a strong relationship with her so she trusts you and feels safe to continue to explore.
Though Jasmine is learning all about the outside world, she feels comfortable in her own home and bonds very closely to her family.  Like many German Shepherds, she feels it is her duty to protect her home and people. She will need you to continue working on her comfort with meeting new people you invite into your home, but that will come too, if she feels you are in charge and she can trust and take her cues from you.
Jasmine craves closeness and attention from her people and wants to be part of whatever you are doing- whether it is going for walks, working in the yard or running errands around town. At home, she will creep up onto the couch or bed to snuggle with you while you read, watch TV or check out GSRNE's Facebook page.
Her ideal adopter will have had experience in the past with a strong-willed German Shepherd. Perhaps she was used to running the show or getting her own way in her previous home, or perhaps she just thinks she knows best. She can occasionally be pushy to get you to play with her but will relax and lay quietly if let her know it's not going to happen right that moment!
Jasmine loves to play keep-a-way with what is left of her old basketball.  Her previous owner said she dug it up from under the snow one year and it's been her "snowy ball" ever since.  Though she used to only play keep-a-way, she is learning how to bring the ball back by using two balls.  Her enthusiasm with the game is so fun to watch, and she is learning to drop one ball to make the other get tossed.
Her favorite form of exercise, though, is to take a long walk; and loves going around the 3.5-mile route with her foster Dad.  She doesn't show aggression towards people or other dogs, but she does want them to ignore her and keep walking by; she would not be happy if someone stopped and tried to pet her.  She has had strange dogs run up to her, and has been fine with all but one so far.  She plays with another large dog in the foster home, but she's quite rough when the play session starts and hurts him at times. She does quickly calm down after a few minutes though so any dog in the home would have to be patient and willing to put up with that behavior.  We think she'd be very happy as an only dog though if she's included in your activities, since her main interest is in her people.
If you have the experience, can be a good and fair leader who will enjoy working with this beautiful girl, would love to have her company on long walks and cuddle with her on the couch (she will lay happily on a dog bed, too, but would prefer snuggling on the couch), please ask us about Jasmine. She's waiting for you!