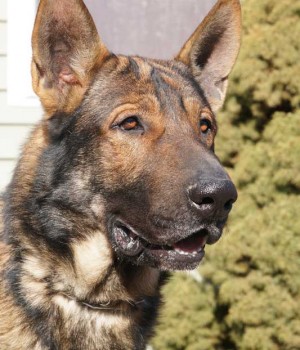 Status: Adopted
Age: 4YRS (DOB 12/15/2014)
Size: Large
Color: sable
Sex: Male
Activity level: Medium to High
Good with other dogs: Yes
Good with cats: unknown
Foster parents: Gerald D. and Katie N
Sponsor Buddies:
Yard Fencing: Required
Click to View More Images.
Password: Jackson
Photos by: Loueen LaVallee

Jackson was six months old when he was purchased by his first owner, and things went well for a while; he was housetrained, calm and friendly.  Due to changes in the family situation, though, the household became loud and disruptive; Jackson received no further training and was often left unattended, locked in a room for 12 hours or more at a time.  When we met him, 2 ½ years later, his was described as being anxious and territorial.
He did pass his evaluation, and we could see that there was a good-natured young dog underneath his anxious first reactions.  Instead of placing him in a foster home right away, we placed him in a board/train program at a kennel that specializes in working with German Shepherds.  He made good progress and was moved to the home of our training director to see how he would do in a home setting.  After several months there, we looked for an experienced foster home or adopter who would continue to give Jackson the confident leadership and structured environment where he could thrive.
In his foster home, he lives with a couple who have been successful with previous German Shepherds and who now have a 6-year-old female Rat Terrier.  She also had GSD experience and has been comfortable with Jackson from the start; when he's taking a nap, she curls up on his bed right next to him.  His foster parents tell us that he's a happy guy, sometimes acting like a puppy around his Kong and tug toys.  He loves to play but is not a pest about it if you have something else you need to do.  He enjoys walks, usually going two or three miles, and has been calm when meeting people and other dogs on their walks.  When his foster Dad has chores to do in the yard, Jackson is content to hang out and keep him company. They also work on basic obedience, especially his recall, because he does tend to ignore that if he feels like doing something else….that's a work in progress.
Our patience has been rewarded, though, and we can now see the real Jackson.  He cannot go to a home where he will have an opportunity to be in charge, but we know he will learn to trust and bond with an experienced and committed forever family.  This has already happened with his foster family, and we are very pleased to share the news that they will be adopting Jackson.